EOSC Secretariat Consortium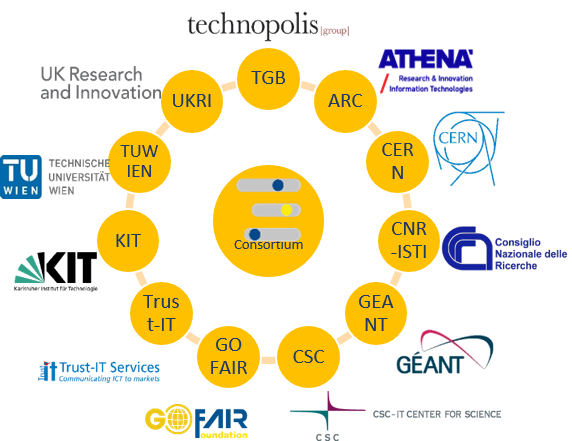 Following detailed consideration of the H2020 call's objectives and of the expectations of the research community and policy makers for an operational, independent, and yet inclusive approach, we have assembled a consortium to support the EOSC Governance in channelling messages to the stakeholders. The efficient, effective and transparent delivery of the EOSCsecretariat.eu is guaranteed through the overall coordination by Technopolis Group, an organisation with no vested interests in the EOSC decision-making bodies and Working Groups.
The consortium comprises key European organisations acting as facilitators in different domains of the EOSC layers and operations. Apart from a good geographic coverage, which is essential to obtain consensus on such a high level endeavour, the partners also bring in expertise and knowledge in many domains including data management services, open science policy, data centre, e-Infrastructure and Research Infrastructure operations, technical and legal interoperability, and governance.
Partners already have experience with providing EOSC type of services at national level.
| | |
| --- | --- |
| | Technopolis Group is an independent research and consulting organisation with almost 30 years of experience in providing evidence-based services at the intersections of government, research and the business sector, addressing environmental and socio-economic challenges by means of science, technology, innovation and education. Technopolis has an excellent understanding of the overall ERA and EU policy and legal landscape, with an outstanding track record in supporting Member States' operation in the area of research, innovation and infrastructures, and expertise on pan-European monitoring mechanisms for ERA related activities, serving as a reference institution for the research and innovation community. |
| | CNR, the Italian National Research Council, is part of ICDI (Italian Computing and Data Infrastructure), a forum of major Italian Research Infrastructures and e-Infrastructures representatives promoting synergies at the national level and coordinating with EU and global initiatives. |
| | CSC has been implementing the Finnish Open Science agenda since 2011, and provides nationally the services funded under the Finnish national open science initiative which is directly steered by the Finnish Ministry of Research and Education. |
| | KIT is the coordinator of the Helmholtz Data Federation (HDF), a national federated data infrastructure, in Germany. |
| | UKRI is the new research funder in the UK that bring together the seven previous Research Councils and other research funding bodies. |
| | Athena Research Center leads the national open science working group, co-leads the implementation of the national data services carrying along 11 research centers, and puts on the table RI expertise as it is the national node of key EU research infrastructures. |
| | CERN is the world's largest particle physics lab and home of the Large Hadron Collider (LHC), the world's most powerful accelerator providing research facilities for High Energy Physics (HEP) researchers across the globe. CERN leads the World-wide LHC Computing Grid project (WLCG), to provide computing resource to store, distribute, analyse and access (in near real-time) LHC data for a community of more than 10,000 physicists worldwide. CERN has developed leading expertise in large scale data centres and long- standing collaborations with industrial and academic partners in the fields of high performance computing, advanced networking, large-scale collaborative tools and is a driver of open access to scientific publications and data. |
| | GÉANT develops, delivers and promotes advanced network and associated e-infrastructure services for research and education and it is owned by its core membership of the European National Research and Education Network (NREN) organisations. |
| | Stichting GO-FAIR is in the process of developing a comprehensive certification programme for the FAIR community, including but not limited to certification of data files, FAIR Data Points ( FDP's), software, algorithms, individuals consultants, trainers, service suppliers and organisations. |
|   | Trust-IT Services is an SME specialised in research analysis & communication in the field of Information & Communication Technologies (ICT) and Research infrastructures and e-Infrastructure environments as well as the development & implementation of innovative web & mobile applications across Europe and globally. |
| | Open Science and Open Research Data is a key value to TU Wien, it has recently established a new Center for Research Data Management, bridging the boundaries between the central computing facilities, the library and information services, the Research and Transfer Services Units, as well as the Research Faculties. |
---