Overview
The European Open Science Cloud (EOSC) aims at fostering open science and the digital transformation of science by providing its scientific community with a trusted and open virtual environment, including seamless access to a wide set of software, infrastructure, protocols, methods, incentives, trainings and services addressing the whole research data life cycle. In order to involve researchers as the main stakeholder group from early on, two workshops were organised in January and in February 2020. The first workshop targeted top-level researchers such as ERC grantees, while the second one brought together members of university networks, as well as representatives from funding bodies and research performing organisations.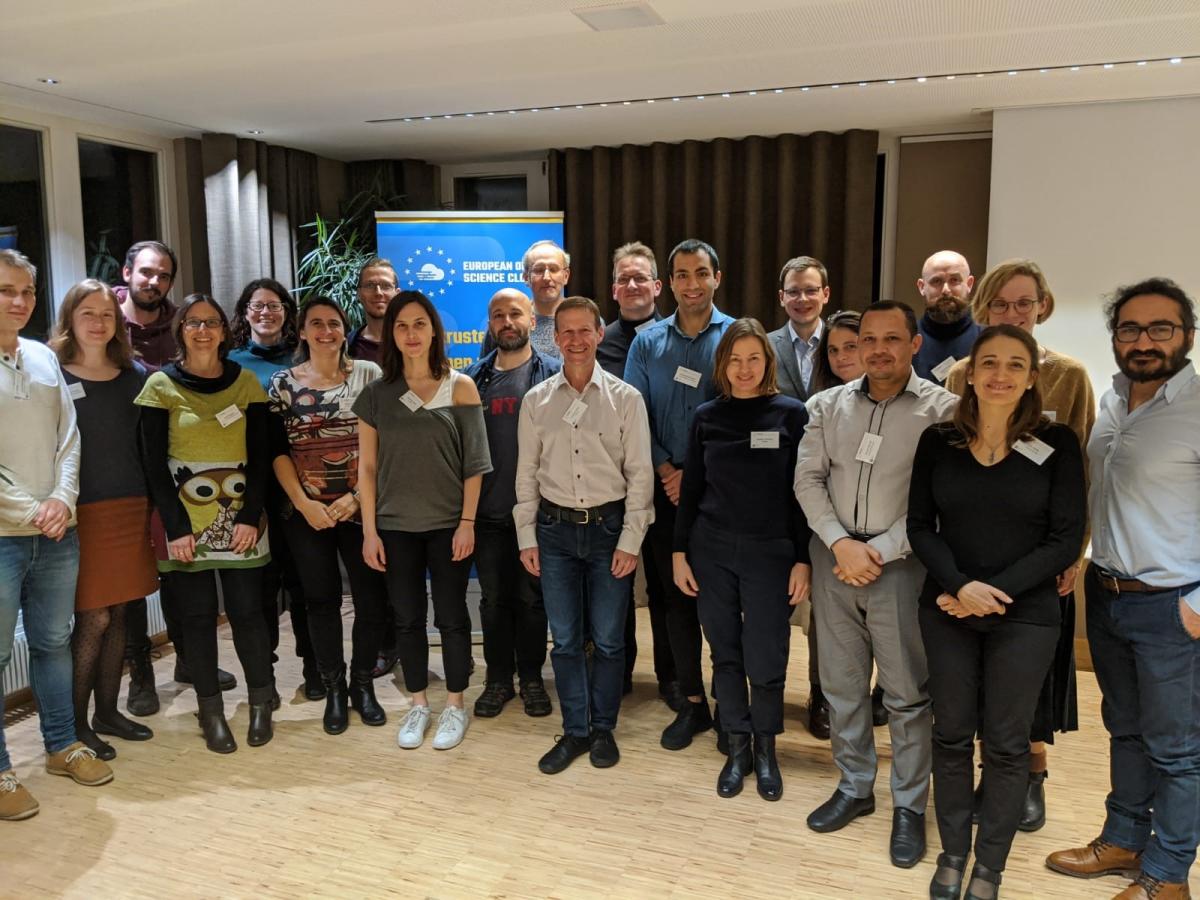 Cross-disciplinary Researcher Workshop. Feldkirch, Austria | 13th January 2020
Objectives & Challenges
Apart from discussing visions, needs and requirements for (future) research environments, the workshops aimed at:
exploring the perspectives of excellent researchers and research experts who had a vision for and were interested in shaping the future of (European) research infrastructures
obtaining a better understanding on how research is changing
identifying current barriers and services considered essential for a well-functioning EOSC 
elaborating visions on how research will be conducted in 5 to 15 years
All findings were distributed among the EOSC governance bodies, the EOSC Working Groups and various stakeholders including researchers, members of university networks and funding bodies, thus providing input in the ongoing development processes of the EOSC.
Main Findings
Despite the different focus of the workshops, all of them addressed the following topics:  First, all participants saw the necessity of collecting services needed in future research environments. Second, they found it important to establish reward mechanisms for researchers to open their data (or make it FAIR). Third, the definition of Rules of Participation (RoP) was considered important in order to shape the EOSC as a regulated, secure and sustainable environment. Last, the fact that information on the EOSC was often too abstract, opaque and scattered criticised and identified as a major barrier to successful researcher engagement: Due to marketing campaigns promoting the EOSC, its (not yet existing) services and its benefits for researchers, researchers became sceptical. At the same time, the actual goals and benefits of the EOSC initiative, the idea of consulting with actual stakeholders to collect input on what was (and is) needed and derive recommendations from that, were lost.
For more details on the workshops' results please download the reports and the 2-page key takeaway messages on Zenodo:

Main Recommendations
Since the lack of clear and straightforward communication was identified as a challenge to successful researcher engagement, the following recommendations could be considered in the context of future researcher engagement activities:
choose a bottom-up approach that aims at involving researchers and experts to collect visions and requirements for (future) research environments, rather than promoting an EOSC that does not yet exist
establish researcher engagement as a continuous activity in the form of workshops, consultations and explorations
set up an ambassadors' program to engage whole research communities. Ambassadors come from different disciplines and are able to address their communities. They are experts in their domains, trusted by their peers with an understanding of the EOSC goals and potential and act as multipliers in terms of outreach and aggregators in terms of requirements and visions for their domains. That also means that they serve as a mechanism to get both a broader interest and support within the communities of researchers.