13 Sep 2019
Corina PASCU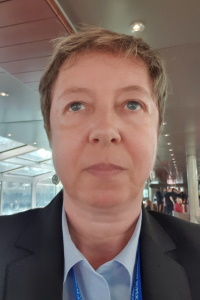 Executive Board Role:
Main EC Contact for the EOSC Executive Board
Professional Title:
Policy Officer - European Open Science Cloud and Open Science policies
Currently working at DG Research & innovation of the European Commission in Brussels, Belgium on European Open Science policies, European Open Science Cloud as well as on science diplomacy (G7/G20 relay on Open Science and expert in the G7 Open Science Working Group setup in 2016 by the G7) and co-designing Open Science policies with stakeholders like RDA (member of the IG/WG on Open Science Commons) and CODATA (global Open Science Commons).
Previously worked for DG Joint Research Centre of the European Commission on the socio-economics of ICTs (implications of ICTs and digital social innovations on society and industry) and on the digital economy and as an independent consultant, advising the European Commission on the investment readiness of SMEs emerged from Community R&I programmes (EC expert Group on Assessing the Investment Readiness), the setting-up of the dynamic pan-European partnerships KICs to reinforce the journey from research to the market (EIT KICs) in areas like VAM and digital innovations, social and digital innovations and VAM (H2020 evaluations) and on development of rapidly marketable innovative products by R&D-performing SMEs (Eurostars Eureka).
Educational backgroud: M.Sc in engineering sciences, M. in Econ of Telecommunications, postgraduate online trainings (MOOC) in technology entrepreneurship, commercialisation of innovation or statistics with Berkeley, Stanford and Cornell University, amongst others.