24 Feb 2020
Dunja Legat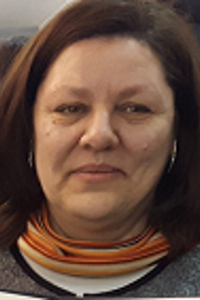 Organisation:
University of Maribor, University of Maribor Library
Dunja Legat is assistant director at the University of Maribor Library, Slovenia. In 2008, she achieved her master's degree at the Department of Library and Information Science and Book Studies at the Faculty of Arts of the University of Ljubljana with her dissertation on the Evaluation of the Bibliographies of Researchers in the Slovenian Union Catalogue. Her primary professional interests are scientific journals, digital libraries and open access. She is very active in developing the institutional repository of University of Maribor called DKUM. She was a member of a task group appointed by the Ministry of Education, Science and Sport to prepare the national document "Open Access in Slovenia 2015-2020: Principles and Regulation Regarding the Open Access for Scientific Publications and Research Data in Slovenia". She was also member of the LIBER Working Group on Research and Education. She was also active in the field of quality in higher education as a longtime Chair of the Library Commission for Quality. In the past years she was a member of the project team for the setup of a modern university press in Maribor. She is now head of the University of Maribor Press. Dunja Legat represents the University of Maribor Library in the regional EOSC project National Initiatives for Open Science in Europe (NI4OS-Europe). She is a member of the Expert Body for Foreign Literature and Databases at the Research Agency of the Republic of Slovenia and was a member of the COBISS Council of Members, the chair of the Quality Committee of the University Library Maribor and member of the University Quality Assessment Commission of the University of Maribor Senate. In 2012 she was a member of the self-evaluation group of the University of Maribor to prepare the university for the EUA Institutional Evaluation. In 2013 she was appointed to the team for the preparation of the starting points for the strategy of the University of Maribor 2013-2020. Dunja Legat participated in the preparation of the baselines for Slovenian standards for higher education libraries (2012). She is an expert in the field of scientific journals, scientific communication, bibliography of researchers, bibliometrics and open access to scientific works.
Expectancies for the WG
I want to contribute to the EOSC Skills & Training Working Group from the perspective of library efforts in the realization of open science principles in practice, following the expectations of the EOSC and in collaboration with all active creators of services in the field of open science. A definition of needed skills and the building of competent trainer communities are a vital part of trainer and end-user education on the EOSC services.