24 Feb 2020
Sadia Vancauwenberghe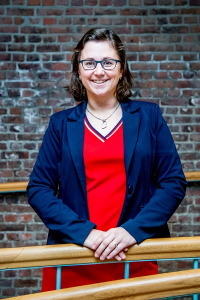 Organisation:
ECOOM, Hasselt University & euroCRIS
Over the past years, I have been involved in the design and implementation of the architecture of Current Research Information Systems (CRIS). In this respect, I'm an active board member and task group leader of the working group on Standards of EuroCRIS (https://www.eurocris.org/). EuroCRIS is an international not-for-profit association that aims to facilitate and promote the interoperability of research information through CERIF, the Common European Research Information Standard. The architecture of CERIF is frequently used in CRIS systems throughout Europe and even in international context. Recently, the CERIF-XML OpenAIRE Guidelines for CRIS Managers were created in collaboration with OpenAIRE. In addition, I was involved in a survey on national and institution CRIS systems carried out by EuroCRIS. Furthermore, I'm member of the RDA DMP Common Standards Working Group and the EOSC Working Group on Landscaping the European research data policies and infrastructures.
With regards to the national context, I'm heading a project on the standardization of research information and classifications to the Flemish Government, in the context of the Flemish CRIS system termed FRIS (Flemish Research Information Space (www.researchportal.be). In this respect, we are developing and implementing information models and standards on all kinds of research-related information, including research data. In addition, I'm member of the Belgian Coordination Group on Open Science, the Flemish Interuniversity Working Group on Research Data Management & Open Science and the Flemish Europe Platform Working Group 4. Finally, I'm heading the Information Management and Data-Analysis Office of Hasselt University which also covers research data management, from policy to practice. Obviously, education and training is inherently part of our activities, which also include pro- and retrospective data-analyses, including the optimization of databases with regards to the exchange of research information.