EOSC and International Initiatives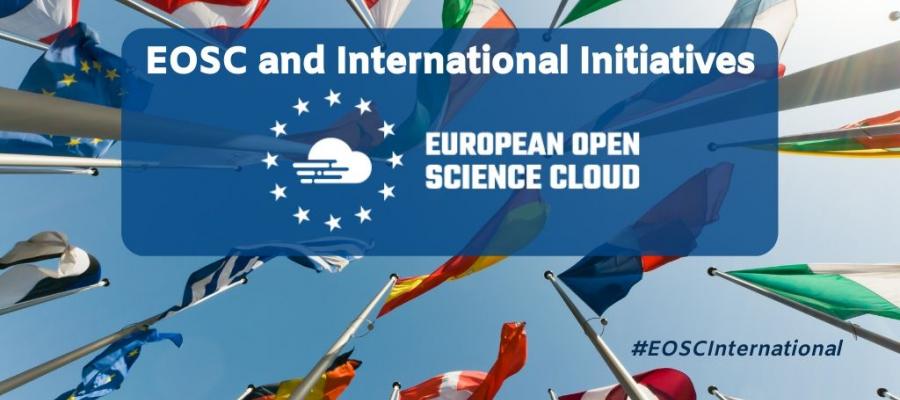 EOSCSecretariat.eu maintains an International Technology and Policy Observatory. This observatory tasked with monitoring relevant developments in non-EU countries. The findings of the observatory are published in this section.
The observatory also supports FAIR and cloud initiatives occurring at non-EU level, by prompting opportunities.
You can also find an EOSCsecretariat.eu podcast on Learning from International Fair Practices here.
---

Read the Data Together: Fostering Cooperation Among Open Science Platforms
A document from the four major international data organisations outlining how the RDA Global Open Research Commons (GORC) and Global Open Science Cloud (GOSC) fit together within the framework of the Data Together Collaboration.
EOSC at RDA VP17 - Open, trusted and digitally enabled science for an International Community
A workshop on priorities and international alignment for the European Open Science Cloud hosted at the RDA Virtual Plenary 17, on 23 April 2021 from 11:00-13:30 CEST.
---
Global Trends
The observatory focuses on five current trends that are relevant for further and faster development of an infrastructure, with the aim to reach a global, federated and interoperable environment for the research community.
Worldwide research and standards organisations driving convergence
Organisations like RDA, CODATA, WDS and GOFAIR are setting up tighter collaboration, working together towards common goals for Open Science.   
Regional Open Science Initiatives more aligned and coordinated
Open Science initiatives in the regions of Europe, Africa, Asia and the US are discussing cooperation, coordination and sharing of best practices in            order to avoid the creation of Open Science silos.      
For more info, see the report on the EOSC Secretariat Liaison Platform on Africa, Asia and Australia, and North America.
FAIR Funders teaming up to drive FAIR behaviour
FAIR Funders in a growing number of countries are requiring researchers to use Data Management Plans at the start of their project and are encouraging researchers to make their datasets FAIR. Funders are considering financial stimuli to drive FAIR behaviour.
For more info, see the report on the EOSC Secretariat Liaison Platform.
FAIR Digital Objects driving worldwide interoperability
The FAIR Digital Objects model (FAIR Digital Framework) could be a potential breakthrough technology, capable of defining the smallest FAIR technical components as building blocks for FAIR Digital Collections. Experts from all over the world are studying the implications of this highly interesting development.   
For more info, see the report on the EOSC Secretariat Liaison Platform.
FAIR Data Stewards likely to change the world of research
An interesting and very positive trend is the fact that more and more institutes and universities are hiring and training data stewards to assist researchers with their data management plans and in making their data FAIR. This allows researchers to concentrate on his/her domain and for the data steward to develop into an expert. The grouping of data stewards in FAIR Data Steward Competence Centres is the latest trend seen in a number of countries.
---
Regional Developments
The observatory focuses on five current trends that are relevant for further and faster development of an infrastructure, with the aim to reach a global, federated and interoperable environment for the research community.
Africa
In Africa, next to the African Open Science Platform (AOSP), there are several sister initiatives such as the East African Health Commission's initiative for an East African Open Science Cloud for Health (EASCH) environment, and the IN-AFRICA GO FAIR implementation network, with partners from both AOSP (Prof Joseph Wafula is the Chair of the AOSP technical advisory board) and EASCH.
Both CODATA and GO FAIR are intimately involved in the African sister initiatives of EOSC and connection via the FAIR principles and the anticipated FAIR Digital Object consensus will guarantee interoperability. There are also further regional activities, and one of the goals of the IN Africa is to align these progressively to drive a consistent and comprehensive coverage of FAIR and open science infrastructures in Africa. These will be fully interoperable with other regional OS-infra and will secure African leadership and governance to also ensure equitable access to information and related services.
More information about the formation of the African Open Science Platform, in cooperation with organisations like RDA and CODATA:
The Vision and Strategy for the African Open Science Platform may be consulted at https://doi.org/10.5281/zenodo.2222418.
In Focus: IN-AFRICA
The Implementation Network Africa – short: IN-Africa – has been initiated by institutions from eight African countries (Zimbabwe, South Africa, Uganda, Kenya, Ethiopia, Burkina Faso, Nigeria and Liberia).
Its main objective is to establish an Internet of FAIR Data and Services, supported by African governance of data, data ownership, protection and security. This objective will be realized by tackling various tasks, such as connecting African Library services to FAIR, linking African Social Science networks to Implementation Networks of GO FAIR in Social Sciences and expanding communication and media attention on FAIR in Africa.
In leader is Mirjam van Reisen, Professor of Computing for Society at Leiden University and Professor of International Relations, Innovation and Care at Tilburg University.
North America
In the USA, there is a new open science policy supported by OSTP and by an interim advice to NIH to make all data and related services 'AI-ready' (AI-ready is in fact quite identical to FAIR, namely findable, accessible, interoperable and reusable for machines, who perform machine learning and increasingly smart algorithms on AI-ready data). See https://acd.od.nih.gov/documents/presentations/06132019AI.pdf.
The Board on Research Data and Information has a formal role on behalf the National Academy of Science and Engineering to coordinate the landscape of Open Science and the associated infrastructure. The Board recently committed a study on 'Open Science By Design' in which the FAIR principles featured very prominently and collaboration with Europe was specifically mentioned. The USA has participated with NSF, NIST, NIH, SPARC-USA and CNRI (a.o.) in the global consensus building around the concept of a FAIR Digital Object. (https://ec.europa.eu/info/sites/info/files/turning_fair_into_reality_1.pdf).
Furthermore, the US Office of Science and Technology Policy (OSTP) issued a memorandum in 2013 instructing all federal agencies that spend more than $100 million per year on research and development to "develop a plan to support increased public access to the results of research funded by the Federal Government" (OSTP, 2013, p. 5).
It also directs agencies to review options and needs for data repositories in areas of research they support and to require "all extramural researchers receiving Federal grants and contracts for scientific research and intramural researchers [to] develop data management plans" (OSTP, 2013, p. 5). The memo requires investigators to specify appropriate data management processes and options for long-term data access and preservation.
Asia and Australia
In China, the Science (data) Cloud is developed under the supervision of the Chinese Academy of Science CAS), with the computer Network Information Centre (CNIC) in the lead.
Scientific data cloud infrastructure and services in Chinese Academy of Sciences gives an overview of what happened in the recent past. At the CODATA conference in Beijing September 2019, Mr. Jianhui -Li (in charge of the Cloud in China, and Vice President of CODATA) demonstrated how the Chinese Science Data Cloud will work on a distributed architecture and will adhere to the FAIR principles throughout. It was also decided that the Chinese colleagues will participate in the global consensus building around the core elements of machine readability and interoperability between the various clouds, i.e. the FAIR Digital Object Framework.
At a technical session in Beijing, representatives from sister initiatives in Malaysia, Korea, Taiwan and Australia (next to Africa and the EU) discussed their respective initiatives and expressed their willingness to actively participate in efforts to work towards a globally federated and interoperable open science infrastructure based on FAIR principles.
---
Get in Touch
The EOSCSecretariat.eu is interested in connecting with various international initiatives and explore areas of collaboration with the European Open Science Cloud. Get in touch with us!
---