EUDAT Conference 2022 - Open Call for Posters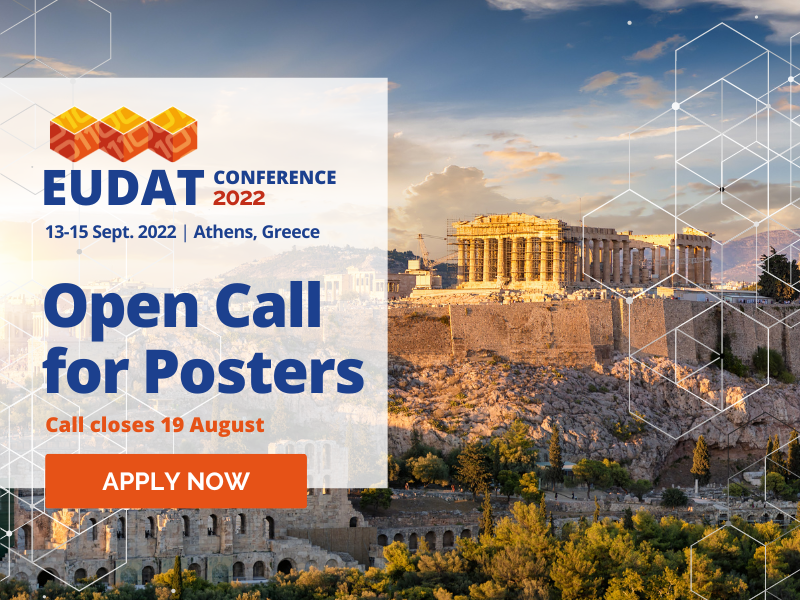 EUDAT Conference 2022 - Call for Posters
EUDAT is providing the opportunity for you to display a poster at the EUDAT Conference. During the EUDAT Conference Exhibition, there will be space for a limited number of posters. Posters can be submitted through this Open Call, and will be evaluated by the EUDAT team.
The poster should tell a story, using infographics and images to summarise your work, with as little text as possible.
We are looking for poster proposals which show at least one of the following:
The use of EUDAT Services in community data workflow
Integration of EUDAT Services with other services
Research Data Management Solutions
Applications via the form on our website must provide the following information:
Title of the poster
Name, affiliation, and contact information of the submitting author
(Optional) Names, affiliations, and contact information of any additional authors
An abstract (max. 500 words) describing the content of the poster
Indicate if you would like to use the standard EUDAT Conference poster template and have it printed by the organisers
Timeline:
Poster proposals must be submitted by 19 August
Poster acceptance/rejection will be communicated by 24 August
Final Poster design sent for approval by 5 September
Finished posters must be delivered to the venue by Tuesday 13 September by courier, or at registration if brought by an attendee.
Format:
A0 portrait format for Print
Optionally, a poster template can be provided which can be then printed by us
How to apply:
Send your application by 12 August 2022 using the form on our website which you can access below.