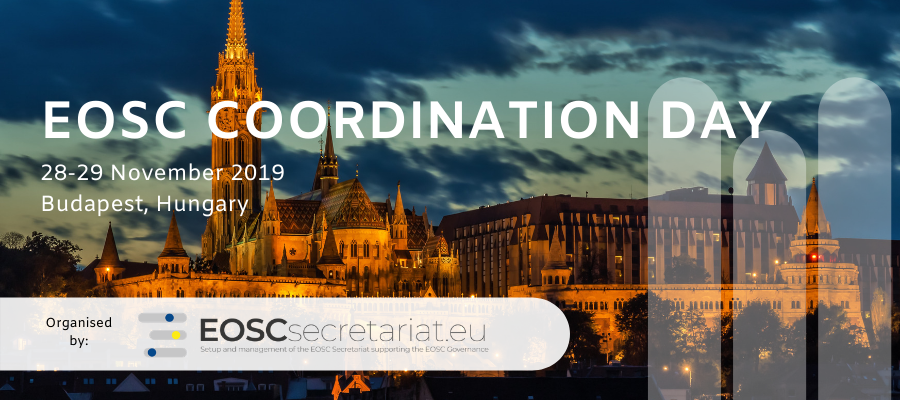 EOSC Coordination Day
Location:
Danubius Hotel Helia, Budapest, Hungary
---
Scope
Stronger coordination and alignment among the EOSC-related projects was a key call to action that emerged from the first EOSC Concertation Meeting in September 2019. Two months on, and the EOSC community will come together to address these issues head on.
This event aims to engage the 30+ EOSC related projects in a structured dialogue in order to:
facilitate collaboration and definition of common lines of activities and goals
coordinate activities and actions in order to avoid duplication of effort
Link to previous Concertation Meeting (9-10 September 2019 in Brussels) outputs:
https://www.eoscsecretariat.eu/news-opinion/eosc-concertation-report-public 
Participants
Representatives from EOSC-related projects
Representatives from EOSC Working Groups
EOSC Secretariat.eu consortium members (as event organisers)
European Commission
This meeting is an invitation only event for the EOSC-related project representatives. As with the previous EOSC Concertation meeting we are restricting participation at the workshop to a maximum of two participants per project. Please only register or attend if you have been invited.
Agenda
Day 1: Objectives of the meeting, presentation of examples of existing collaborations, introduction of possible collaboration topics and selection of the most relevant themes to be discussed during the breakout sessions on Day 2
Day 2: Two breakout sessions each divided by two discussion rounds on selected topics. 
Outcome
Improved coordination of future collaboration activities and coordination events
Formulation of new/needed actions (use of EOSC secretariat co-creation budget if new studies/request are required)
Timely input to the EOSC Governance
Share and enhance best practices and success stories
Programme Committee
Jos van Wezel (KIT - Karlsruhe Institute of Technology)
Donatella Castelli (CNR-ISTI)
Emma Lazzeri (CNR-ISTI)
Detailed Agenda:
Day 1 Mapping mutual interests and directions, Room: Panorama
Time

Topic

Chair

15:30-
16:00

Setting the scene and scope of the Coordination meeting

Jos van Wezel,
KIT - Karlsruhe Institute of Technology

 

15:00-15:10

Presentation

Main calls to action and takeaways from 1st EOSC Concertation meeting

Scope and objectives of the Coordination meeting

EOSCsecretariat.eu (CSA) and its remit to facilitate:  

Collaboration between EOSC projects

Project input to EOSC EB Working Groups

15:10-15:30

Open discussion

16:00-
16:30

Examples of existing types of collaborations

Emma Lazzeri,
CNR-ISTI

16:00 – 16:10 - Presentation

Examples of types of collaborations

16:10 – 16:30 – Other examples and ideas for other EOSC collaboration among projects

16:30-
17:00

Catalogues for Service and Research outputs

Donatella Castelli,
CNR-ISTI

16:30 – 16:40 – Presentation

A catalogue of catalogues as a point for collaboration
Identification of projects that have a catalogue of services
Areas of collaboration between projects

16:40 – 17:00 – Open discussion

17:00-
17:30

Engagement with researchers

Andreas Rauber,
TU Wien - Vienna University of Technology

17:00 – 17:10 - Presentation

Push or pull? Are you listening to researchers?
Successful examples of engagement
How projects can improve researchers engagement

17:10 – 17:30 – Open discussion

17:30-
18:30

Open Coordination Forum, discussion and selection of the 4 top priority collaboration topics

Annabel Grant,
GÉANT
Self-paid EOSC Coordination Dinner
Location to be defined and communicated later
Day 2 From Discussion to Actions
Breakout sessions dedicated to discuss joint actions and plans on the 4 topics identified the day before. There will be a maximum of 2 breakout sessions in parallel. 
Time

Title

9:00-
10:00

Breakout 1

Room: Orion

Breakout 2

Room: Orion

10:00-
11:00

Breakout 3

Room: Uranus

Breakout 4

Room: Uranus

11:00-
11:30

Networking Coffee

11:30-
12:15

Presentations of the breakouts outcomes and discussion & wrap up

Room: Uranus

12:15-
13:00

Plan for the next six months

Room: Uranus
Venue
The EOSC Coordination day will be held at the Danubius Hotel Helia in Budapest.