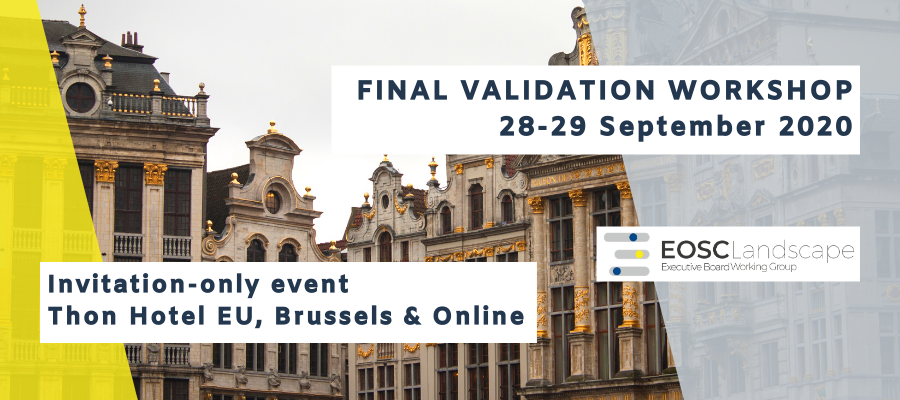 EOSC Landscape Final Validation Workshop
Location:
Thon Hotel EU, Belgium & Online
---
The EOSC Landscape Working Group is hosting the Final Validation Workshop, organised in collaboration with EOSCsecretariat.eu. The invitation-only event is going to be held on 28-29 September 2020 at Thon Hotel EU, Brussels, Wetstraat/Rue de la Loi 75, B-1040, with the possibility of remote participation. Only 2 people per organisation can take part in the event.
The goal of the event is to discuss and validate the Landscape Analysis with stakeholders, on the road to the EOSC Symposium 2020. The analysis is devoted to the view on the preparedness of Member States and Associated Countries to join EOSC.
Agenda - all times CEST
Monday September 28 - Where are we now?
Chair: Sadia Vancauwenbergh, EOSC Landscape WG
11:30-12:00 Registration (on-site only)
12.00-13.00 Sandwich lunch for on-site participants
13:00-13:20 Welcome and overview of the sessions 
Thomas Neidenmark - welcome for EC Directorate General for Research & Innovation 
Jan Hrušák and John Womersley - welcome from EOSC Landscape WG chairs
13:20 – 14:15 Dissemination on the results of the analysis of the landscape report  (Thórdis Sveinsdóttir, Digital Curation Centre, DCC) 
EOSC readiness overview 
Open Science Policies - findings and recommendation plus Q&A
Infrastructures - findings and recommendations plus Q&A
14:15-14:45 Coffee break
14:45-15:30 Indicators - recommendations plus Q&A      
18:00-20:00 Dinner for on-site participants
September 29 - Moving forward 
Chair: Sadia Vancauwenbergh, EOSC Landscape WG
8:30-9:00 Welcome coffee
9:00-9:15 Welcome and short recap of day 1 and aims for day 2 (Jan Hrušák & John Womersley, EOSC Landscape WG)
9:15-10:45 Defining Standard Policy Elements and Use of Open Data Sources. Pre-workshop activity 1 and 2 - share results and discussion (DCC)
10:45-11:15 Coffee break
11:15-12:30 Emerging indicators - presentation on results of open consultation and facilitated discussion (Thórdis Sveinsdóttir and Ryan O'Connor, DCC, and Federica Tanlongo, EOSC Landscaping Task Force)
12:30-12:45 Conclusions and closure - (Thórdis Sveinsdóttir, DCC, and Jan Hrušák & John Womersley, EOSC Landscape WG)
12:45-14:00 Lunch for on-site participants