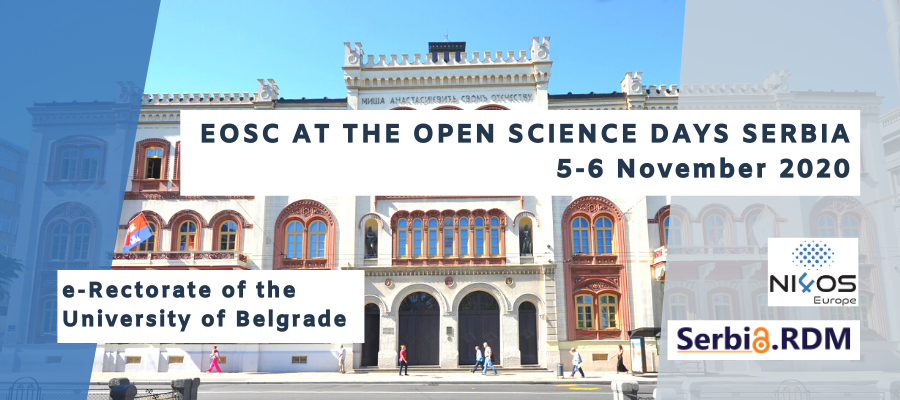 EOSC at the Open Science Days in Serbia
Location:
e-Rectorate of the University of Belgrade
---
On 5-6 November 2020, the University of Belgrade virtually hosted the third edition of the Open Science Days in Serbia, organised by the Serbian node of OpenAIRE in collaboration with NI4OS-Europe. A rich program with panels, training sessions and presentations targeted at the local open science community.
The NI4OS-Europe capacity building event at the Open Science Days in Serbia
This specific session is part of a series of national capacity building training events organized under NI4OS-Europe, one of the regional EOSC-related projects that are coordinating harmonisation, training, and implementation in EU member states and associated countries.
The main goal of the capacity building training is to inform Open Science stakeholders in Serbia about the role, tasks, and outputs of the NI4OS-Europe project and to raise the awareness of EOSC, to highlight the importance of interoperable infrastructure and services, FAIR principles, open research data management and openness throughout the research lifecycle. The target audience includes academia and research communities, decision-makers, national service providers, e-infrastructure experts, librarians and repository managers, etc.
The NI4OS-Europe capacity building training event was held online, on 6 November 10:00–12:00 CET. All presentations were in Serbian.
EOSCsecretariat.eu co-creation activities at the Open Science Days in Serbia
The main aim of the co-creation activity "Boosting EOSC readiness: Creating a scalable model for capacity building in RDM"  funded by EOSCsecretariat.eu, and also presented during one of the co-creation sessions at the EOSC Governance Symposium 2020, is to increase EOSC readiness and awareness of researchers and librarians.
The Serbia.RDM website with guidelines on Research Data Management in Serbian was presented during Session 4 on RDM starting on Friday, 6 November at 13:00 CET ("Сесија 4 - RDM"), together with current progress and future plans related to the setting up and localizing data repository, and on devising data management procedures and scenarios. Also, trainings activities for researchers and librarians were announced.
Please note that the entire event is in Serbian
Useful links: