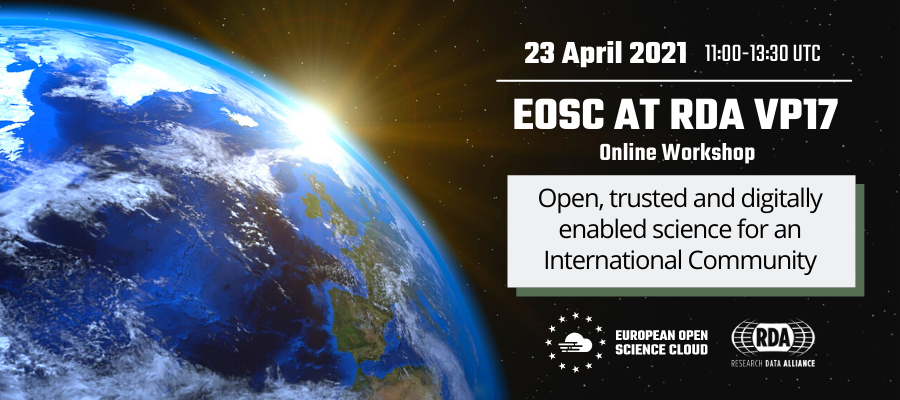 EOSC at RDA VP17 - Open, trusted and digitally enabled science for an International Community
---
RDA VP17: Opening data for global challenges
One of the major strengths of RDA is the global reach of the network. Members come from 145 different countries and plenary meetings rotate around the continents. This diversity of collaboration is required to address global challenges and broker solutions that work for a manifold of different contexts. Richer outputs and standards occur as a result.
RDA's plenary meetings provide an opportunity for this diverse collaboration to make rapid progress in all areas of its work - initiating and joining new working groups, sharing interim results from in-progress work, identifying areas of overlap and synergy, and presenting completed work and successful stories of its adoption. The outputs developed by RDA groups all aim to ensure that data can be shared and reused, and made more open, in global and cross-domain environments. This supports RDA's vision and mission:
Researchers and innovators can openly share and re-use data across technologies, disciplines and countries to address the grand challenges of society
RDA's members build the social and technical bridges to enable open sharing and reuse of data
A workshop on priorities and international alignment for the European Open Science Cloud
RDA Virtual Plenary
11:00 – 13:30 UTC - 23 April 2021
---
The European Open Science Cloud is a potential game-changer for the sharing and exploitation of data not just in Europe but also globally, benefitting scientific research and helping to address societal challenges across the globe.
Open Science, Open Innovation and Open to the World are the principles in the EOSCs international activities. With numerous regional and national Open Research Data Commons and Open Science Clouds being developed, an objective of EOSC is to liaise with international bodies such as RDA.
As the EOSC enters its implementation phase 2021-2022, the newly published Strategic Research and Innovation Agenda of the EOSC lays out a clear roadmap for the coming decade to ensure commitment, cooperation and consensus of all stakeholders. This workshop will first provide participants with an overview of the main aspects of the roadmap with specific reference to both strategic and practical priorities which will be the main focus of newly formed EOSC Working Groups. We will then delve deeper into the various partnerships and international collaborations that the EOSC should establish based on an initial scoping activity carried out by RDA and commissioned by the EOSC governance (EOSCsecretariat.eu project).
Topics to be covered will include:  
Landscape of the research and scientific communities and their readiness to engage with Open Science Clouds / Open Research Commons
Collaborations across regional, disciplinary, and national Open Research Data Commons and Open Science Clouds via the RDA Global Open Research Commons Interest Group
Supporting organisations to engage with Open Science Clouds / Open Research Commons
Overview of RDA Global Open Research Commons Working Group benchmarking exercise
---
or
Watch the recording:
---
Agenda
11:00 UTC

Workshop start

11:00 – 11:45 UTC

 

 

 

 

The European Open Science Cloud in a global ecosystem

Chair: Nicholas Ferguson, Trust-IT Services & EOSCsecretariat.eu

11:45 – 12:45 UTC

 

 

 

RDA in support of internationalisation of the EOSC

Chair: Hilary Hanahoe, Secretary General, RDA

12:45 - 13:30 UTC

 

Priorities and next steps for RDA-EOSC collaboration

Chair: Hilary Hanahoe, Secretary General, RDA

Ron Dekker, CESSDA ERIC Director, SSHOC & EOSC Future Project Coordinator
Ingrid Dillo, Deputy Director DANS,  FAIRSFAIR Project Coordinator
Simon Hodson, Executive Director, CODATA & CODATA Global Open Science Cloud 
Mark Leggott, Executive Director, Research Data Canada & RDA Global Open Research Commons
Klaus Tochtermann, Director, EOSC Association & Data Together Group

13:30 UTC

Workshop close
---