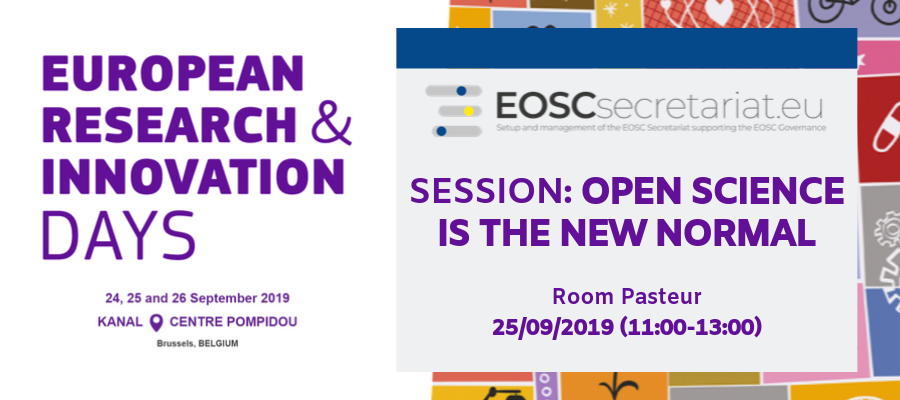 European Research and Innovation Days
---
European Research and Innovation Days: Open Science is the New Normal
Brussels, Belgium | 25 Sept. 2019
EOSC Secretariat is co-organising the session "Open Science is the new normal" on 25 September at 11:00 as part of the European Research and Innovation Days.
Open Science is becoming the new normal. This leads to a revolution in research practices, where our unprecedented ability to access, combine and process heterogeneous information transforms the research landscape and accelerates the pace of innovation. We will discuss the benefits of Open Science for society, including the European Open Science Cloud and benefits for the private sector.
Present at the event will be EOSC Executive Board Co-Chair Karel Luyben. Also speaking in the session is Catherine Stihler (Open Knowledge Foundation, United Kingdom), Shreyas Mmukubd (Sparrho, United Kingdom), and Jens Vinge Nygaard (Aarhus University, Denmark).
The European Research and Innovation Days

The European Research and Innovation Days, being held from 24-26 September 2019 in Brussels, Belgium, is the first annual policy event of the European Commission, bringing together stakeholders to debate and shape the future research and innovation landscape. A key challenge for Europe is delivering the next great transition of our economy, society and planet to secure a sustainable future that ensures the wellbeing of citizens.
The event will be central to finding research and innovation solutions for this great transition by working across polices, setting the direction, spurring innovation and triggering investment. It will be the moment for all stakeholders to meet and co-create the strategic priorities for the European Commission's investment in research and innovation.
At the same time, the event aims to mobilise EU citizens and increase awareness of how important research and innovation are in addressing the challenges that face society. It will include a free exhibition to showcase and celebrate the very best EU research and innovation has to offer.