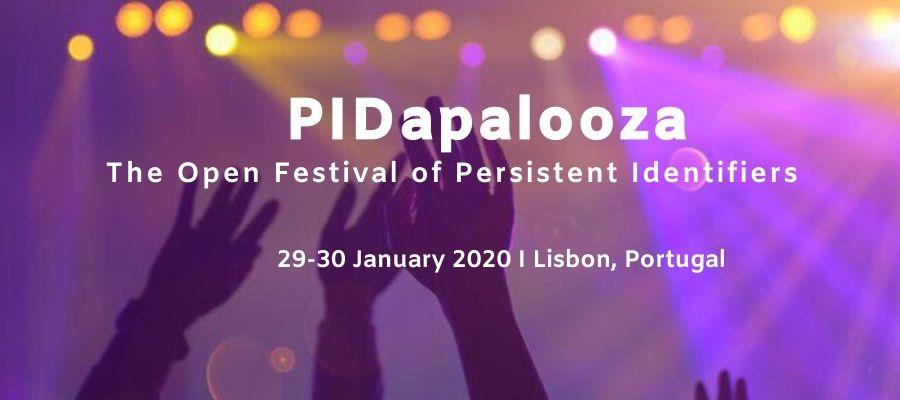 PIDapalooza
---
PIDapalooza is an open festival on persistent identifiers and the metadata that connects them, organised by the California Digital Library, Crossref, DataCite and ORCID.
This year's festival will be held in Belém Cultural Center, Lisbon, Portugal on 29-30 January 2020. 
PIDapalooza will bring together creators and users of persistent identifiers (PIDs) from around the world to shape the future research information landscape. An emerging PID-enabled research information infrastructure is supporting proper attribution and credit, promoting collaboration and reuse, enabling reproducibility of findings, fostering faster and more efficient sharing and dissemination of scholarly works.
PIDapalooza invites everyone who's working with PIDs for two days of discussions, demos, workshops, brainstorming, and updates on the state of the art will catalyze the development of PID community tools and services.
The EOSC PID Policy
As part of the European Open Science Cloud Governance, representatives from the EOSC FAIR and EOSC Architecture Working Groups have joined forces to create an outline of what is meant by 'persistent identifier' and what the key features of PIDs are that must be present in order to support FAIR research across EOSC.
The document will be presented during a dedicated session at PIDapalooza 2020, by the title "The EOSC PID Policy", taking place on January 29 at 12 pm (Sophia de Mello Room). Speakers Sarah Jones (EOSC FAIR WG chair), Brian Matthews and Anders Sparre Conrad (FAIR WG members) will guide attendees through an interactive session to collect feedback on the policy. Diverse perspectives are welcome and those from diverse background actively encouraged to contribute their thoughts.
You too can provide feedback to the Initial PID Policy for EOSC, by joining the discussion in the EOSC Liaison Platform and as we value your input on the launch of the initial  PID for the EOSC.