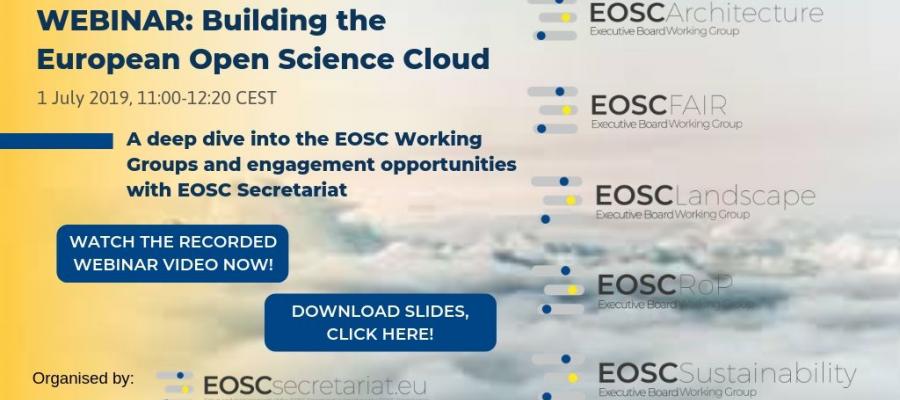 Webinar - Building the European Open Science Cloud
---
Building the European Open Science Cloud
A deep dive into the EOSC Working Groups and engagement opportunities with EOSC Secretariat
1 July 2019, 11:00-12:20
---
Presentations available
Towards a Strategic Implementation of the EOSC & Addressing strategic priorities for the EOSC through the Executive Board Working Groups  EOSC Secretariat – Cathrin Stover, GEANT & EOSC Executive Board Chair & Sarah Jones, Digital Curation Centre & FAIR WG Chair
EOSCSecretariat.eu: Engagement opportunities for EOSC stakeholders - Andrea Grisilla, Technopolis Group & EOSCsecretariat.eu
Purpose and Scope
This webinar provides an overview on the EOSC Governance Structure including the soon to be released EOSC Strategic Implementation Plan which has been written by the EOSC Executive Board. The webinar will also present the newly-formed EOSC Executive Board Working Groups, looking at their scope and outputs. Finally, we'll also be taking a closer look at new opportunities for funding and engagement with EOSC. The webinar is organised by the EOSC Executive Board and the EOSC Secretariat.eu project.
Authored by members of the EOSC Executive Board, the EOSC Strategic Implementation Plan draws from the EOSC Implementation Roadmap to present a comprehensive overview from vision to implementation of the EOSC. An essential part of this is the estabilshment of the the EOSC Executive Board Working Groups which will ensure a community-sourced approach to the current challenges of the EOSC. Topics addressed include examining the EOSC landscape, the architecture, FAIR data, rules of participation, and sustainability.
The EOSCSecretariat.eu project plays an important role in supporting the the EOSC Governance. Through stakeholder engagement activities and co-creation opportunities, the project provides key channels of communication and discussion around these essential topics to ensure a successful implementation of the EOSC implementation.
Who should attend?
Infrastructure initiatives from Member States
EU infrastructure related initiatives
Researchers
International initiatives
Industry
Main Takeaways
Find out more about the EOSC Strategic Implementation Plan
Discover the main EOSC EB working groups, their outputs and who's behind them
Learn about funding and co-creation opportunities you can apply for
Understand how you can get involved in the EOSC governance process
Find out how to Influence decision-making in the EOSC on behalf of your stakeholder group 
Agenda
11:00 – 11:05 Welcome and introduction – Nicholas Ferguson, Trust-IT Services & EOSCSecretariat.eu
11:05 – 11:35 Towards a Strategic Implementation of the EOSC & Addressing strategic priorities for the EOSC through the Executive Board Working Groups  – Cathrin Stover, GEANT & EOSC Executive Board Chair & Sarah Jones, Digital Curation Centre & FAIR WG Chair
11:35 – 11:50 Q&A – moderated by workshop chair and with participation of other WG chairs
11:50 – 12:05 EOSCSecretariat.eu: Engagement opportunities for EOSC stakeholders - Andrea Grisilla, Technopolis Group & EOSCsecretariat.eu
12:05 – 12:20 Q&A – moderated by workshop chair
12:20 – Close of webinar