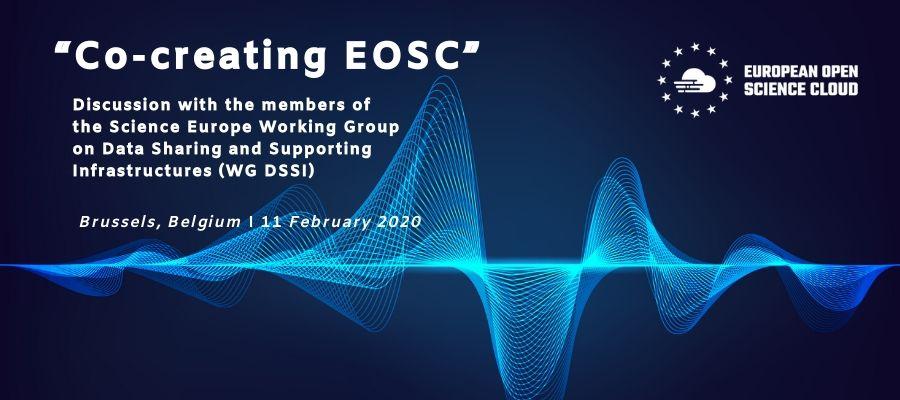 "Co-creating EOSC": Discussion with the members of the Science Europe Working Group on Data Sharing and Supporting Infrastructures (WG DSSI): Synthesis of the takeaway messages
---
Brussels, Belgium, 11 February 2020
---
The EOSC initiative aims at supporting more than 1.7 million researchers and boosting interdisciplinary research in Europe. To better understand what the European research funding and research performing organisations research community needs, the EOSCSecretariat partner TU Wien is organizing a series of workshops and discussions. The third by-invitation-only discussion took place on 11 February 2020 in Brussels, at Science Europe. A small group of experts from Science Europe Member Organisations was invited to brainstorm about the actual needs in their current work as well as about future needs and requirements concerning research and funding activities. The findings will feed directly into the work of the EOSC Governing Board, the EOSC Executive Board (EB) and Working Groups (WGs), thus provide input crucial for the development of the EOSC. A summary of preliminary key findings include these takeaway messages from Science Europe participants (as per 11 February 2020):
Research funding organisations are supposed to fund projects and research and research performing organisations are asked to consider how they can contribute to EOSC. Yet, they still do not have a clear idea on what EOSC is supposed to be. There is a need for a better understanding of what EOSC is (not what it is not)
Clear communication is needed to explain to the stakeholders involved what kind of opportunities EOSC will offer.
Research organisations need to talk to ministries or to other organisations involved in their home countries, they need to have trusted and verified information concerning the EOSC
Incentives need to be offered for researchers to make data FAIR
Member States have to offer incentives to make data FAIR
Suggestions for better communication comprise:

a website (eosc.eu or eosc.org) that makes it easy to find general information (for the time being, when searching online for EOSC, search engines direct to the website of the European Commission or to one of the many EOSC projects)
produce a short trailer with some messages from researchers providing inspiring ideas

Security and trust are big issues
Synthesis of the takeaway messages:
Since research organisations have to act and not to react, and since they have to prepare their activities in the long term, based on solid strategies, the main message resulting from the discussions are:
Research funding and research performing organisations have to be recognized as a permanent interlocutor in the EOSC building processes, and have to be fed on a regular basis with the information they need for their long-term activities.
The attending representatives of Science Europe Member Organisations point the attention to the fact, that at the moment an official page containing the basic information about EOSC is NOT available (a page answering these questions: What is EOSC, which are the basic services that will be provided) and that clear communication is needed.
A key question is: What kinds of incentives for the Members States are foreseen in order to make data and services FAIR?
Participating representatives of the EOSC Secretariat/TU Wien were Paolo Budroni and Barbara Sánchez – Date of Release of DOC: 17FEB2020
Layout Version: 4MAR2020