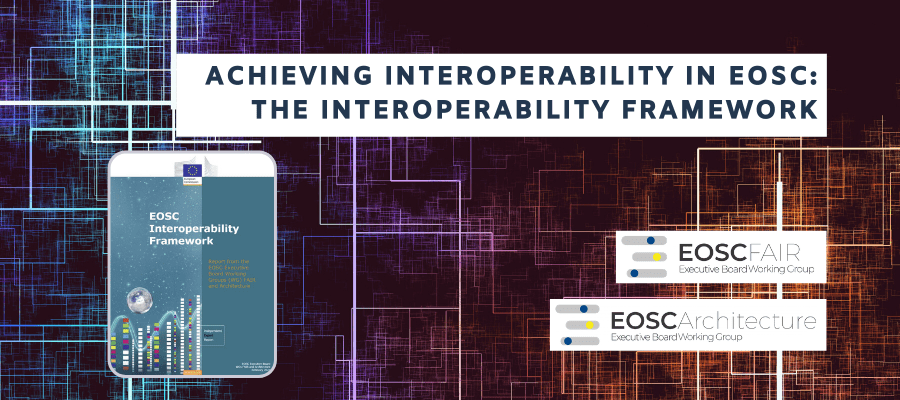 Achieving interoperability in EOSC: The Interoperability Framework
---

08 Feb 2021
One more report has just been released by the FAIR Working Group, resulting from the work of the Interoperability Task Force and a joint collaboration with the Architecture Working Group and with a co-creation request (for the legal interoperability analysis): the EOSC Interoperability Framework.
Achieving interoperability within EOSC is essential in order for the federation of services that will compose EOSC to provide added value for service users. This document identifies the general principles that should drive the creation of the EOSC Interoperability Framework (EOSC IF), and organises them into the four layers that are commonly considered in other interoperability frameworks (e.g., the European Interoperability Framework - EIF): technical, semantic, organisational and legal interoperability.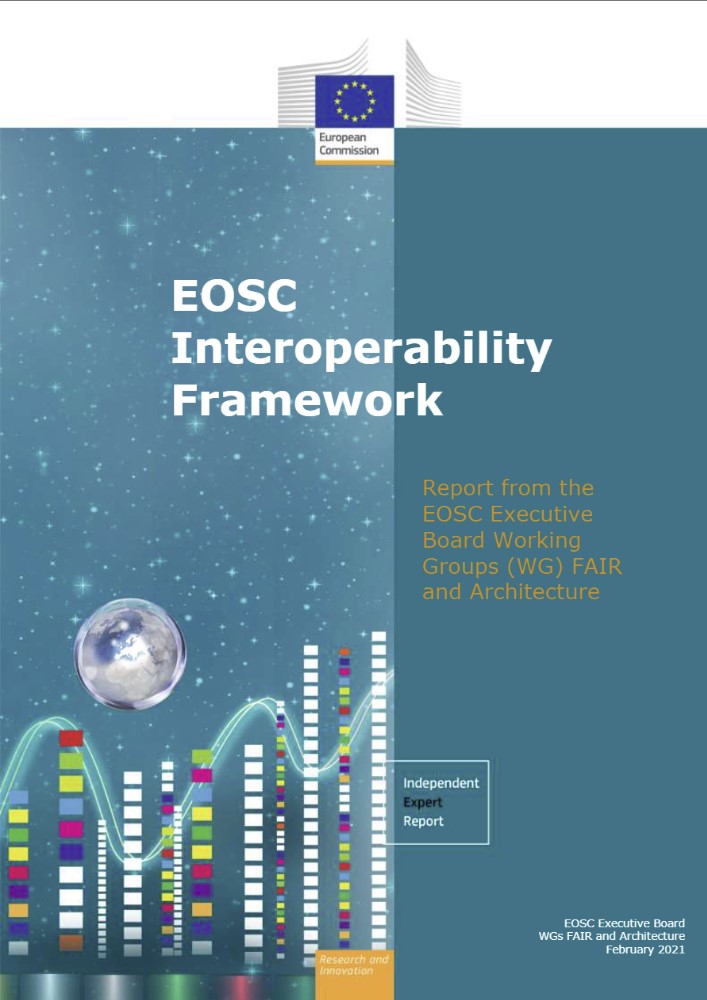 For each of these layers, a catalogue of problems and needs, as well as challenges and high-level recommendations have been proposed, which should be considered in the further development and implementation of the EOSC IF components. Such requirements and recommendations have been developed after an extensive review of related literature as well as by running interviews with stakeholders from ERICs (European Research Infrastructure Consortia), ESFRI (European Strategy Forum on Research Infrastructures) projects, service providers and research communities. Some examples of such requirements are: "every semantic artefact that is being maintained in EOSC must have sufficient associated documentation, with clear examples of usage and conceptual diagrams", or "Coarse-grained and fine-grained dataset (and other research object) search tools need to be made available", etc.
The document finally contains a proposal for the management of FAIR Digital Objects in the context of EOSC and a reference architecture for the EOSC Interoperability Framework that is inspired by and extends the European Interoperability Reference Architecture (EIRA), identifying the main building blocks required.
And appendix I provides an analysis of existing metadata models and an initial set of crosswalks among them are included. This initial work may set the initial steps for a future proposal for an EOSC Minimal Metadata Application profile, which should be widely discussed and agreed by a large palette of disciplinary communities.
The following list summarises our recommendations, organised by layers.
Technical layer
Open Specifications for EOSC Services.
A common security and privacy framework (including Authorisation and Authentication Infrastructure).
Easy-to-understand Service-Level Agreements for all EOSC resource providers.
Easy access to data sources available in different formats.
Coarse-grained and fine-grained dataset (and other research object) search tools. 
A clear EOSC PID policy. 
Semantic layer
Clear and precise, publicly-available definitions for all concepts, metadata and data schemas.
Semantic artefacts preferably with open licenses.
Associated documentation for semantic artefacts. 
Repositories of semantic artefacts, rules with a clear governance framework.
A minimum metadata model (and crosswalks) to ease discovery over existing federated research data and metadata. 
Extensibility options to allow for disciplinary metadata.
Clear protocols and building blocks for the federation/harvesting of semantic artefacts catalogues.
Organisational layer
Interoperability-focused rules of participation recommendations. 
Usage recommendations of standardised data formats and/or vocabularies, and with their corresponding metadata.
A clear management of permanent organisation names and functions.
Legal layer
Standardised human and machine-readable licenses, with a centralised source of knowledge and support on copyright and licenses.
Permissive licenses for metadata (and preferably for data, whenever possible). And CC0 preferred over CC BY 4.0.
Identification of different parts of a dataset with different licenses.
Clearly marked instances of expired or inexistent copyright, as well as for orphan data.
A clear list of EOSC-recommended licenses and their compatibility with Member States' recommended licenses.
Tracking of license evolution over time for datasets.
Harmonised policy and guidance to dealing with cases where patent filing or trade secrets may be compromised by disclosure.
GDPR-compliance for personal data.
Additional restrictions on access and use of data only applied in cases of applicable legislation or legitimate reasons.
Harmonised terms of use across repositories
Alignment between Member States national legislations and EOSC.