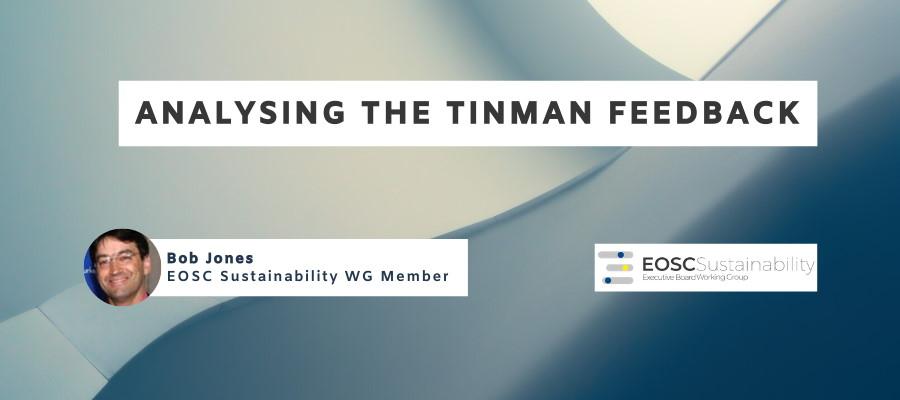 Analysing tinman feedback
---

24 Apr 2020
The documents linked in this blog post are available for logged-in users of the EOSC Liaison Platform, To access them join here!
The tinman version of the Solutions for a Sustainable EOSC report from the Sustainability Working Group was distributed in early December in order to gather feedback from the Governing Board, Executive Board and H2020 projects contributing to the EOSC. The tinman version1 builds on the earlier strawman document2 and the feedback it received3. From December through to February, more than 30 projects, organisations, board members and individuals provided written feedback to the tinman document. The Sustainability Working Group was impressed by quality of the material submitted and would like to thank all those that took the time to provide feedback.
This feedback has been analysed by the Sustainability Working Group and documented4 in order to be taken into account in the upcoming ironlady version of the Solutions for a Sustainable EOSC report. A list of subjects have also been identified where the Sustainability Working Group intends to pursue additional studies:
Additional legal advice to create the legal entity
Costing exercise to determine the operational costs of EOSC. In addition, the full value chain of EOSC should be described, identifying key roles, models and actors.
EOSC-Exchange: Marketplaces for public and commercial providers. Determine the business models, participation, access, risks and opportunities for EOSC Exchange.
Expanding EOSC: Engagement of the wider public sector and private sectors in EOSC
EOSC risk assessment
Long term data preservation roles and responsibilities
These studies will be performed by the EOSCsecretariat consortium or commissioned via the co-creation funding opportunities.
Thanks for reading!
Join the EOSC Secretariat network now and get updates like this straight in your inbox!
1, 2, 3, 4 As stated above, please join the EOSC Liaison Platform to access the documents.