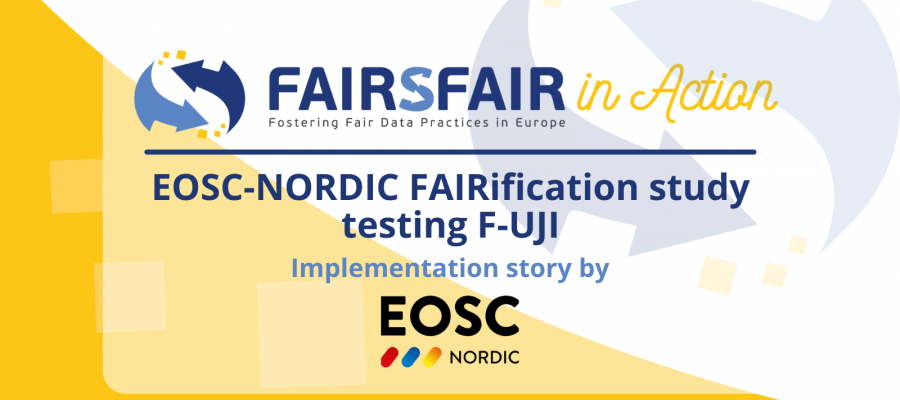 Boosting the uptake of FAIR data principles in Europe: get to know FAIRsFAIR tools
---
The Horizon 2020 project FAIRsFAIR aims to supply practical solutions for the uptake of the FAIR data principles throughout the research data life cycle with emphasis on fostering FAIR data culture and the uptake of good practices in making data FAIR. 
The project involves all scientific communities to work on a common scheme under the FAIR data principles and practices by data producers, as well as national and European research data providers and repositories contributing to EOSC. The project recently invited a selection of projects from the EOSC ecosystem to test FAIRsFAIR tools, services, recommendations and guidelines, asking them to share their experience and lessons learnt in a series of adoption stories.
EOSC Nordic and the F-UJI tool
The EOSC-Nordic FAIRification initiative team defined a sample size of about 100 data repositories, for which they evaluated the FAIRness of their (meta)data, with the aim to guide and coach the repositories, over time, to a higher level of FAIRness. The guiding and coaching were done via a number of webinars, whereby they selected specific topics that contributed to a lower FAIRness score for a substantial part of the sample and where they felt improvements could be achieved.
Soſtware to perform automated evaluations proved to be a good tool to evaluate the FAIRness of the findable metadata and data of repositories. For this purpose the team decided to embrace the F-UJI evaluator designed by the University of Bremen and Pangaea as part of one of the work-packages of FAIRsFAIR as the standard assessment tool for the EOSC-Nordic FAIRification initiative.
---
EOSC-Nordic and FAIRsFAIR are involved in the INFRAEOSC-05 Collaboration, coordinated by EOSCsecretariat.eu