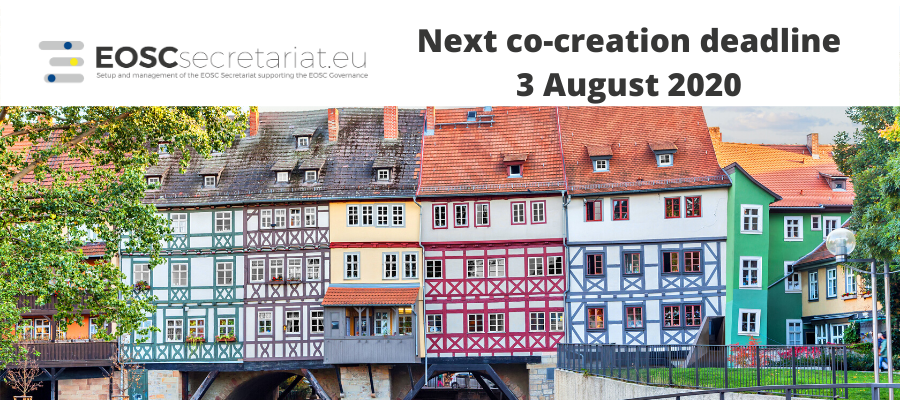 Co-creation funding opportunities - Next application deadline on 3 August 2020
---
The second half of 2020 is going to be crucial for the development of the European Open Science Cloud, as we approach the creation of a Minimal Valuable EOSC by the end of the year, and the establishment of the EOSC Legal Entity. A first proposal, the 'European Open Science Cloud (EOSC) Partnership' setting out the structure for this entity, was published in May. 
Now the EOSC Executive Board has published an open consultation on the EOSC Strategic Research and Innovation Agenda (SRIA). The SRIA document builds on the EOSC Partnership proposal by drawing from its structure, the work of the Executive Board & its Working Groups and input from stakeholders in order to set out a full and strategic vision. It is vital that stakeholders participate in the creation of the SRIA. Research organisations and universities including their IT departments, individual researchers, policymakers, industry representatives and citizens are all welcome and strongly encouraged to respond.
The consultation, which closes on 31st of August 2020, asks for the input of EOSC communities and beyond in setting out the future vision of the European Open Science Cloud.
Over these next six months, EOSCsecretariat.eu will continue the selection for relevant EOSC-related activities, providing funding for studies, analyses, workshops, events, and other key contributions to the EOSC mission. Applications will be awarded every month, all deadlines are set at 17:00 CEST.  
 
Successful examples
A variety of EOSC-related activities and studies have been funded over the past few months, you can find a full list of successful applications at this link.
Learn more about some of the previously funded applications on the EOSC Liaison Platform:
 Do you have an idea that will help co-create the EOSC? Apply for funding now!