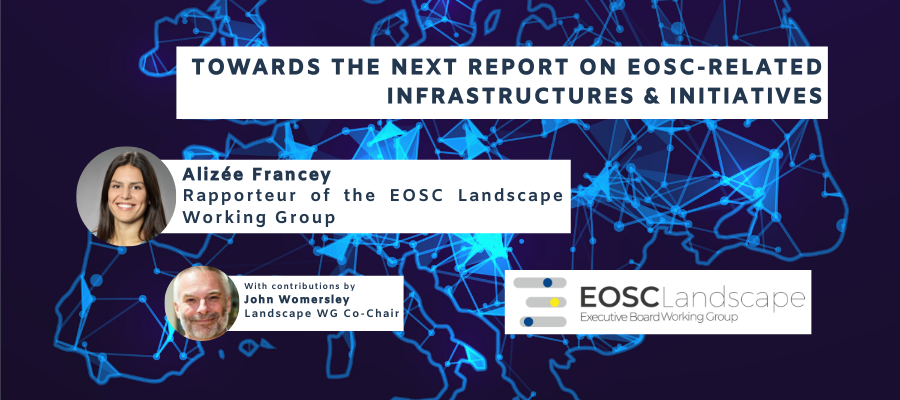 Finalising the next draft of the report of the Landscape WG into EOSC-related infrastructures and initiatives
---

24 Feb 2020
By Alizeé Francey, EOSC Landscape WG Rapporteur, with contributions by John Womersley, EOSC Landscape WG Co-chair
The EOSC Landscape Working Group (WG) kicked off the new year in an active way in order to finalise the next draft of the EOSC related infrastructures and initiatives landscape report.
Four meetings were already held as teleconferences (10th of January 2020, 20th of January 2020, 10th of February and 17th February 2020). The meetings aimed to discuss the current stage and following steps towards the next version of the report.
The WG has now received country sheets from 30 EU Member States and Associated Countries and the challenge is then to include all the information we have received in an aggregated format. The WG decided to organize itself through different task forces to make it easy for its members to actively participate and to make sure that their expertise is best utilised.
The next draft of the Landscape WG report will go through a validation process, and a Validation Workshop is therefore planned on the 23rd and 24th of March 2020 (noon-to-noon) in Brussels. This invitation-only Workshop will aim to discuss the status of the preliminary Landscape Report findings in four respective sessions. The objective of the Workshop will also be to define how the Landscaping activities can support the work of the others EOSC WGs.
Finally, if you are interested in becoming a stakeholder of EOSC, please visit the Liaison Platform and make your voice heard. Feel free to join!