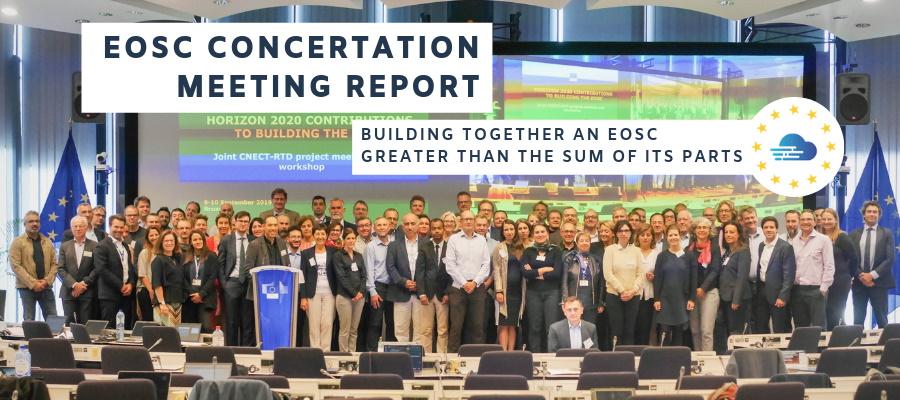 EOSC Concertation Meeting report: Building together an EOSC greater than the sum of its parts
---
The final report from the first general EOSC Concertation meeting has been released.
The 2-day meeting, was jointly organised by DG-RTD and DG-CNECT, the two units from the European Commission currently funding the invited EOSC projects and coordinating activities, as well as the EOSCsecretariat.eu. Taking place 9-10 September 2019 in Brussels, the meeting responded to a recognised need to bring the EOSC community together and inform each other about the respective activities. Indeed, 100 stakeholders representing the EOSC Governance bodies and more than 30 EOSC-related H2020 projects participated at the meeting which saw a series of break-out sessions and intense discussion designed to identify key assets, coordinate efforts, exploit synergies with the goal of building together an EOSC that will be greater than the sum of its parts.
Discussions have been captured in the report by rapporteurs and EOSC Executive Board members who facilitated discussions.
Call to Action
The European Commission, the EOSC Governance and Executive Boards and all other stakeholders are invited to use the report to promote the objectives of EOSC and raise awareness amongst stakeholders.
Key Takeaways
The EOSC is starting to emerge, as is its identity, and there is a lot of interest in all the projects that participated in the meeting and in the communities they represent.
Stronger coordination and alignment among the EOSC-related projects are needed and should be encouraged.
The development of EOSC should be guided at all times by the requirements of the users. In order to achieve this, openness and transparency are key.
In its first steps, EOSC should prioritize access to data, interoperability and federation, while providing network and authorization solutions, certified services and the required software.
Coordination between the European Commission and the Member States is of paramount importance to enable the EOSC governance framework.
The journey to EOSC has just began and thus several questions remain open and still need to be covered in order to ensure its successful development.
Continuous efforts should be made to build an" EOSC brand" and, hence, communication and outreach activities should be increased in order to reach and positively engage all relevant community stakeholders and the wider public in these crucial times of development.