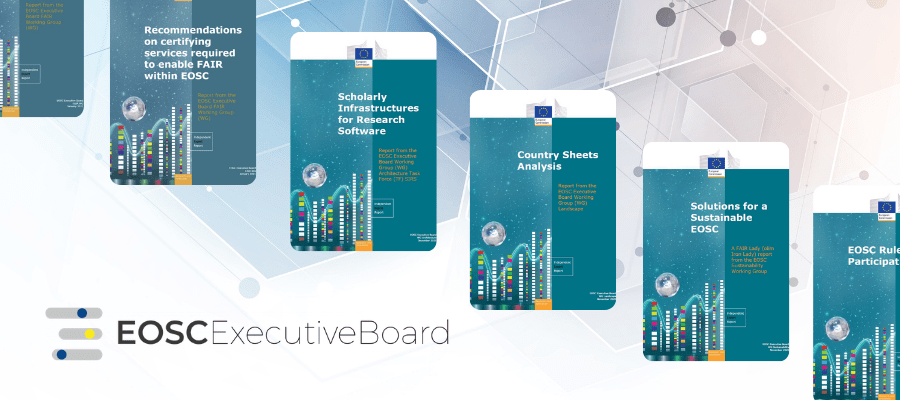 EOSC EB wraps up activities by releasing key documents for the European Open Science Cloud
---
Over the past two years (2019-2020), activities related to the European Open Science Cloud have been coordinated by the EOSC Governance, consisting of the three bodies defined in the Implementation Roadmap for the European Open Science Cloud: EOSC Governance Board, EOSC Executive Board, and the EOSC Stakeholder Forum.
This Governance featured representatives from across the user and provider communities as well as representatives from EU Member States and the European Commission, successfully concluding its mandate at the end of 2020, and accompanying the transition to the new phase where the EOSC Association will play a central role.
In particular, members of the EOSC Executive Board, which provided advice and support on the strategy, implementation, monitoring and reporting on the progress of the implementation of the EOSC, have recently finalised all of the key outputs planned by the six Working Groups, each focussing on a specific area of EOSC.
These documents have all been published via the Publications Office of the European Union in coordination with the EC and EOSCsecretariat.eu, and are now also listed on a dedicated page on our website.
Disseminating results within the EOSC community 
Over the last few weeks, representatives of the EOSC Working Groups have also provided insights on their work in the form of dedicated blog posts, which have been published on EOSCsecretariat.eu and shared with the wider community:
EOSC will strengthen Europe's role in the exploitation of digital resources for research, contributing to fully realise the potential of science in an era of global cooperation on major challenges. 
It will play a fundamental part in the EC strategy for the European Research Area (ERA), helping implement the priorities of Open Innovation, Open Science and Open to the World and the promotion of Findable, Accessible, Interoperable and Reusable (FAIR) data.