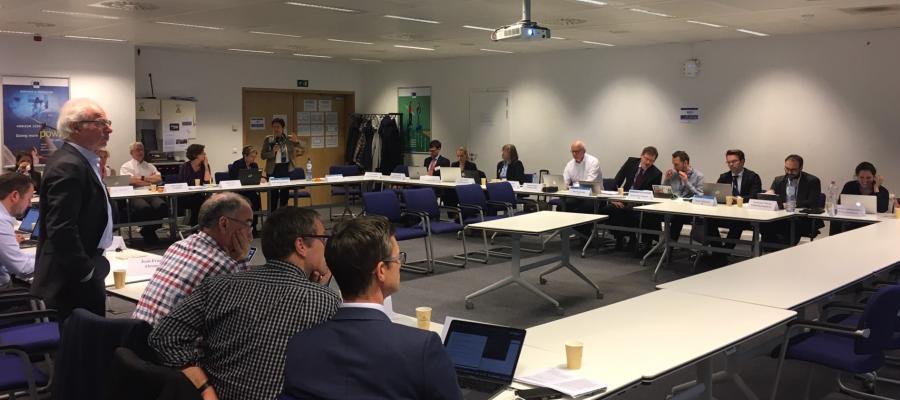 The EOSC Executive Board met for the second time to discuss its Strategic Implementation Plan, Working Groups and Stakeholder Engagement
---

26 Apr 2019
By: Cathrin Stover, EOSC Executive Board Vice Chair
The EOSC Executive Board met on Wednesday 17 April in Brussels for its second formal meeting. The members of the Executive Board as such were complete and in addition, we had representatives from DGCNCT and DGRTD present, as well as the EOSCSecretariat team.
To begin with we reminded ourselves why we are here: EOSC is to transform the way Europe does science in the digital age. EOSC cannot live in isolation, and we need to be clear, that scientists across Europe are not at all waiting for us and also that national governments around Europe are carrying out their open science plans. What EOSC is to achieve is to bring the European dimension to the table of ongoing change, which means a federated approach, user/researcher focus and collegiality in a huge community of stakeholders. How fast can we go to ensure we are not late, how slow do we need to be to be as inclusive as possible? How do we ensure, that we build structures, but not walls? The EOSC is an ambitious undertaking and it is good to remember the big questions, before getting ourselves emerged into a very dense agenda, that is still quite full with administrative items.
Having worked together now for almost 4 months, the first agenda item after approving the minutes from our last meeting (available publicly here, on the EC register: http://ec.europa.eu/transparency/regexpert/index.cfm?do=groupDetail.groupDetail&groupID=3632&NewSearch=1&NewSearch=1) was a discussion on how we can improve our decision making processes in an environment of fast pace developments, while maintaining agility and flexibility. We decided that strengthening our frequency and efficiency in internal communication is a key priority, and asked EOSCSecretariat to play a key supporting role.
The next item on the agenda, is the Strategic Implementation Plan (SIP) which Sarah Jones and Jean-Francois Abramatic have put together. Jean-Francois introduces the plan by describing how the architecture around scientists has changed from "Gutenberg-style" science to "Berners-Lee-style" science and is now to change to "EOSC goes Berners-Lee-style" science. A result of this and the fact, as already mentioned above, that scientists are not waiting around to adapt themselves, is that EOSC must offer an added-value, must be federated, researcher/user focused and engaging stakeholders to become the first choice for scientists. What does that mean over the next two years? The SIP for the next two years therefore describes the federated approach taken together with the priorities, which will also translate into the working groups which the EB will launch soon. We heard the comments on the SIP document and gave ourselves a deadline of 3 May to finalise this document which will need to be adopted by the GB.
Karel then debriefs the EB on the last EOSC Governance Board meeting and here again, we discuss how we can have quicker flow of information following such meetings to ensure that the two bodies work are fully aligned.
We then thoroughly discuss the five EB working group descriptions (sustainability; landscape; architecture; FAIR and RoP) and also the mechanism to formalise the membership in these WGs. There is a clear understanding here that the EB will need to carefully balance the expectations of the GB with those of the community and that again – communication will be the key to success. Having approved the text of the WGs, we will now make these available to the GB Chair and then publish them on the EOSCsecretariat website. As for the formation process, the EB will be awaiting the nominations from the GB, will nominate additional candidates and will ensure that community participation is open and transparent by running an open call. Preparations for this open call are now our priority.
We also discussed that the EOSCsecretariat will tender for the undertaking of additional studies to be carried out in support of the WGs. The aim here is to ensure that these studies are as aligned as possible with the WGs and will therefore only be fully launched when the WGs are up and running.
The next element on the agenda was driven by the EOSCsecretariat, which presented on the stakeholder engagement plan. As EB we asked the team to ensure that the engagement plan is widened and that it is understood that the EOSC Symposium (to be held in Budapest, 26 to 28 November) is clearly seen as just one element of the stakeholder engagement, which needs to be a continuous activity addressing all stakeholders and initiatives. Ideally, all this should happen in close collaboration with all other projects, as there are many synergies to be explored and possible overlaps to be avoided.
We also decided that a day event on EOSC should be organised alongside the upcoming RDA meeting in Helsinki in October – watch this space for further information.
The last item briefly discussed was the upcoming EB and GB teambuilding event which is planned for early May in Munich. I believe this will be essential for the future collaboration between these two bodies and Karel and I will need to do a good amount of prep work together with the Chair of the GB to make this a success.
The last bit we decided is that in our next meeting Communication will be the first item on the agenda, as we all realise that we need to improve our communications. Internally, as well as externally, more is needed.
As a summary:
We now have a Strategic Implementation Plan, five approved WG descriptions, these will be made public asap; the stakeholder engagement is well under way and two specific EOSC events are in the calendar: a one day event in Helsinki in October followed by a two day event in November in Budapest; we are about to finish the Strategic Implementation Plan, which we will also publish and we are getting ready to meet the GB for a two day teambuilding event in May. And let me again point out that the minutes of our meetings will regularly made available here:
http://ec.europa.eu/transparency/regexpert/index.cfm?do=groupDetail.groupDetail&groupID=3632&NewSearch=1&NewSearch=1
Thanks for reading!
Join the EOSC Secretariat network now and get updates like this straight in your inbox!