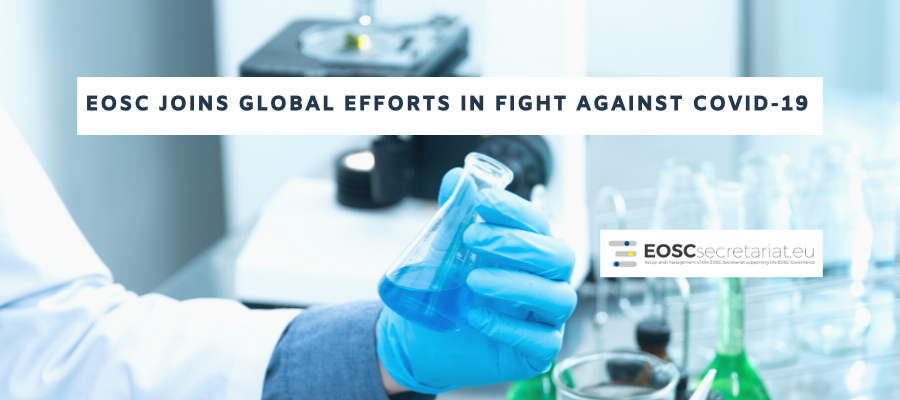 EOSC joins global research efforts in fight against COVID-19
---
Healthcare workers have been on the frontline in the battle against the COVID-19 virus since day one. They have been fighting a tireless campaign against an unforgiving enemy. In a speech to Parliament announcing the extension of lockdown measures last week, Italy's health minister Roberto Speranza hailed health workers referring to their services as a "precious asset", however he also stated that in order to return to normal, the search for a vaccine is paramount, as "without a vaccine we will never defeat this virus".
As the endeavor moves into the long term and the search for a vaccine acquires an increasingly crucial importance, open science takes up position on the frontlines. As also highlighted recently by Nature, over the past number of weeks, researchers, academics and analysts alike have been working at lightning speed, using the innovations of open science in the search for a COVID-19 vaccine.
Open science allows all research, data, information to be shared in real time, this means that the scientific reaction time to a global virus outbreak is much faster than before. In the case of the SARS outbreak it took 20 months to begin testing a vaccine, but for COVID-19 the scientific community expects to be able to reach that step much quicker.
The international response against coronavirus is ramping up, and working in collaboration - from countries sharing doctors to scientist sharing information around the world - is our best chance of success. Not all heroes wear capes, but many of them wear white coats.
Science is scaling up its fight against the virus through numerous funding calls, and EOSCsecretariat.eu, in recognition of the urgent global challenge, has also launched a fast-track funding call for projects that can help to better understand, halt and eradicate COVID-19.