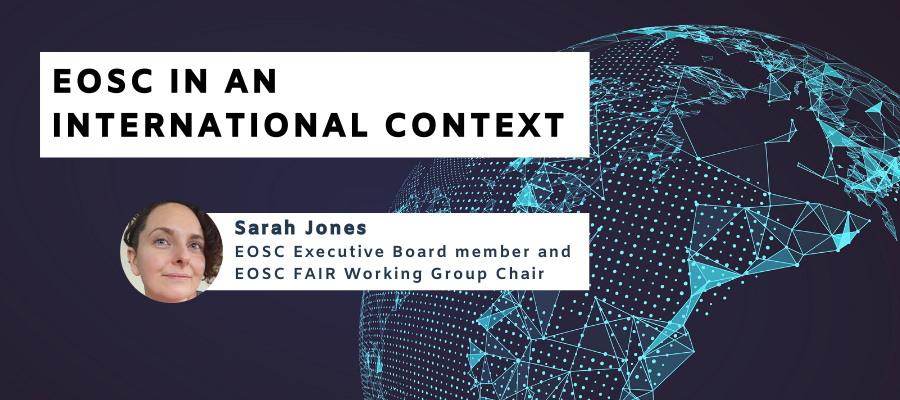 EOSC in an international context
---

31 Jan 2020
By: Sarah Jones, EOSC Executive Board member and EOSC FAIR Working Group Chair
As we co-create EOSC we must set our work in the broader international context. Research is global and the standards we deploy in a European context to create a web of FAIR data need to align, or at least interoperate with parallel initiatives in other countries, continents and sectors.
This is an area I'm passionate about and have been trying to progress since accepting a role as Independent Expert on the EOSC Executive Board. Last Summer I did a two month placement in Australia to learn about the Australian Research Data Commons. I spent time with ARDC staff in Brisbane and Melbourne, and also visited CSIRO and several research institutions to understand their context better.
There are some striking similarities and ways we can learn from each other, as noted in the report and recommendations. The trip also helped me to see strengths in EOSC. It really is astonishing that we have brought all the Member States and Associated Countries together behind a common vision for Open Science and federated services to add value and increase data reuse. The community governance and consultative approaches in EOSC, while not always entirely successful, are also an area of which we should be proud and invest more time and effort.
At PIDapalooza this week, Maria Fernanda Rollo spoke about how she had got all the research funders, institutions and other key stakeholders in Portugal behind a national persistent identifier strategy and infrastructure. She personally spoke with all institutions, listened to their concerns and needs and invited them to collaborate. The scale of EOSC makes this a challenge, but continual dialogue and active listening to reach consensual solutions is the only way forward.
Next week I will be giving a keynote in Ottawa at the Canadian National Data Services Framework Summit led by CANARIE and Research Data Canada. They are developing national infrastructure akin to EOSC so I will be reflecting on lessons learned and advising that it takes more than a village when developing global open research commons.
Another upcoming activity of relevance is the Global Open Research Commons Interest Group session at the Research Data Alliance plenary in Melbourne. Over the past 18 months we've run a few BoF sessions and panels at RDA and CODATA events to promote collaboration across EOSC and parallel initiatives such as ARDC, AOSP and the NIH Data Commons. Last year we convened an Interest Group to reach a shared understanding of what a "Commons" is in the research data space; what functionality, coverage and characteristics does such an initiative require and how can this be coordinated at a global level?  We held our first session in Helsinki and will progress work at Melbourne in March.
The RDA GORC Interest Group will be a key vehicle for a new Internationalisation Task Force of the EOSC Executive Board. This was approved at the Executive Board meeting today and will be chaired by Cathrin Stöver and Karel Luyben with Corina Pascu, Juan Bicarregui and myself as members. We plan to reach out to relevant initiatives such as RDA, CODATA, the G7 Open Science Working Group, OECD and others. We will hold our first meeting on 28th February when we will get an update on the analysis of international initiatives GO-FAIR have conducted as part of the EOSCsecretariat project. We will also agree who to liaise with in each initiative and set up future meetings. If you work on relevant activities in an international context please reach out to us via the EOSCsecretariat project.
The world may seem like a big place, but when we consider the challenges we face in research to ensure reproducibility, timely sharing and societal benefit, there is more than unites than divides us. We are co-creating EOSC to bridge across disciplinary, geographic and cultural divides and we extend our hands to the rest of the world. On this monumentally sad Brexit day, lets come together!