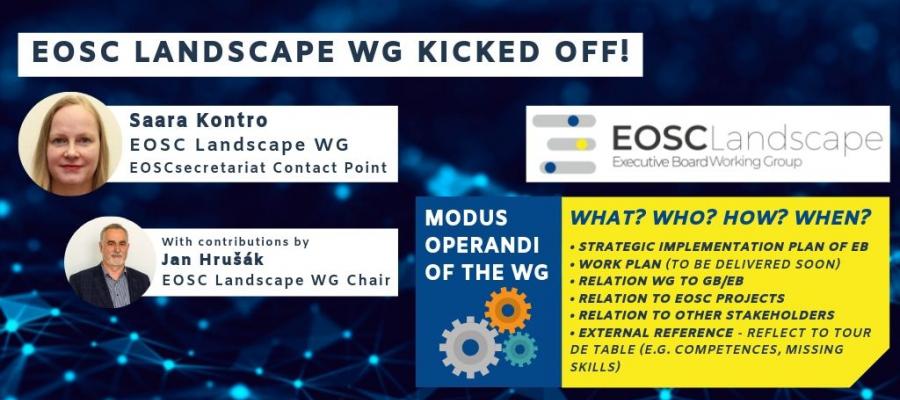 EOSC Landscape WG kicked off!
---

31 Jul 2019
By: Saara Kontro (CSC, EOSCsecretariat Contact Point for the EOSC Landscape Working Group), with contributions by Jan Hrušák (Chair of the EOSC Landscape Working Group)
Thursday, 18 July we had the 1st face to face meeting of the Landscape working group and saw our work kicking off in a good spirit of collaboration. We have 18 members representing Member States and Associated Countries on board. The group is well balanced and able to cover the aspects of landscape analysis from the content point of view: It has a wide variety of expertise ranging from e-Infrastructures and HPC to Open Science, Open Access repositories, Data infrastructures and Libraries.
We have been assigned with the duty of Mapping of the existing research infrastructures in Europe which are candidates to be part of the EOSC federation, but the stock taking should include structures and initiatives in Europe including national research infrastructures and e-infrastructures, national open science strategies and policies, ESFRI RIs and cluster projects, thematic initiatives and clouds, EOSC-relevant H2020 projects and international working groups. The initial mapping will be available already in Q3/2019. It shall be finalized by the end of 2019 and the final report to be handout in Q3/2020.
This final report will include analysis of the Member States' EOSC readiness, existing funding models and resources, political commitments and strategic planning. You can read more detailed description of our duties at https://www.eoscsecretariat.eu/working-groups/landscape-working-group on the EOSCsecretariat website.
The Modus operandi of the working group
Naturally, a lot of time in the 1st meeting of our working group was dedicated in the discussion and definition of our Modus operandi - what? by who? how? and when? should be done.
The need of mapping the national RIs and initiatives comes directly from the Council conclusions on the EOSC. The Council of ministers states in the  Conclusion no 10 of May 18, 2018 on the European Open Science Cloud (EOSC): "INVITES the Commission and the Member States therefore, to jointly explore the creation of a map of national research data infrastructures and initiatives in the Member States which could be federated, in order to ensure that current structures, competences, functions, and initiatives regarding research data management are duly taken into account."
However, we understand the stock taking exercise in a broader sense: EOSC related covers Research Infrastructures but also other kinds of EOSC relevant infrastructures. What should be included to the analysis? Libraries, repositories, infra related archives, university based archives, museums, technologic infrastructures, networking, storage, HPC, etc. At this point, it is important to define what is the minimal set that we would wish to map and what we should map.
A lot of different thresholds and criteria were proposed and discussed to delimit the structures and initiatives to be taken account in the survey. Certain financial threshold and other principals such as the purpose of the structure, importance at national level and relevance to the EOSC were reviewed. The European landscape is very heterogeneous, Member States vary in their size and type of infrastructures they pose, therefore simple financial threshold does not work. Structures and initiatives of national relevance will be included to the survey together with infrastructures important at European level. The timeframe was also identified decisive: Only those infrastructures that are now ready, operational and available for the EOSC federation and those that will be available by 2024 will be considered in this analysis as relevant for the EOSC at this stage.
Use of already existing material and collaboration
There is some relevant landscape analysis already carried out in the area Research Infrastructures that will be taken onboard to feed to the initial mapping. For instance, some of the EOSC implementing projects, such as EOSC-pilot and EOSC-hub have carried out studies in this field. There are also some on-going surveys we are aware of and we suspect that many countries are either carrying out at the moment or planning to conduct stock taking of national infrastructures and initiatives as a response to the Council conclusions mentioned earlier. Inclusiveness and transparency are our guiding principles. We just need to be informed about these activities and already available reports and we will take them into account. In the meeting two existing reports were discussed:
We aim at conduction our mapping exercise in collaboration with other initiatives. For instance, the recently granted five regional EOSC projects from the INFRA-EOSC 5B call are about to be launched and have mapping of national initiatives as first milestones of their projects. These projects are very well networked and settled in their Member States and the discussions have already begun to conduct our activities in a coordinated way.
In order to ensure that the landscape analysis truly mirrors the situation in Member States we aim establish continuous interaction with the EOSC community, this will include webinars and open working group meetings at events such as the International Research Data Community contributing to EOSC taking place just before the RDA plenary in Helsinki in October or the EOSC Symposium programmed for November 26-28 in Budapest. Looking forward to meeting you in these events!
The EOSC community is invited to follow our work on internet and through the dedicated events. EOSC requires for its success a joint effort of all of us!