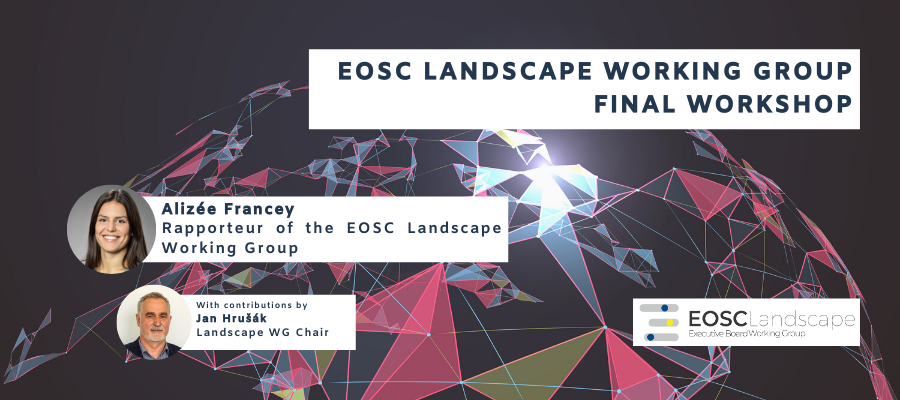 EOSC Landscape Working Group Final Workshop
---

13 Oct 2020
By: Alizée Francey (Rapporteur of the EOSC Landscape Working Group), with contributions by Jan Hrušák (Chair of the EOSC Landscape Working Group)
---
On 28 and 29 September 2020, the EOSC Landscape Working Group (WG) Final Workshop took place at Thon Hotel Brussels with possibility of remote participation. Altogether over 100 stakeholders participated. In order to favour feedback and interactions, some materials have been shared before the event including a link to the Landscape Analysis draft, which is devoted to the view on the preparedness of EU Member States (MS) and Associated Countries (AC) to join EOSC. The concise analysis focuses on the policy landscape based on the data generated in the country sheets and develops a set of pragmatic recommendations.
Thanks to fruitful discussions and feedback eased thanks to digital tool such as sli.do and an online questionnaire, the event enabled dialogue and validation of the Landscape Analysis by the experts from Governance Board (GB), Executive Board (EB) as well as INFRAEOSC-5B projects, ESFRI research infrastructures, ESFRI clusters, OpenAire, FAIRsFAIR, EOSC-Pillar and the other EOSC EB Working Groups.
The outputs of the discussion are now being processed in order to refine the content of the Landscape analysis.
If you would like to get in touch with the Landscape WG, please do not hesitate to contact it by the mailing list inform-landscape-wg@eoscsecretariat.eu. 
Last but not least, if you are interested in becoming a stakeholder of EOSC, you will find prompt information on how to get involved on the EOSCsecretariat.eu website. Feel free to join!
---