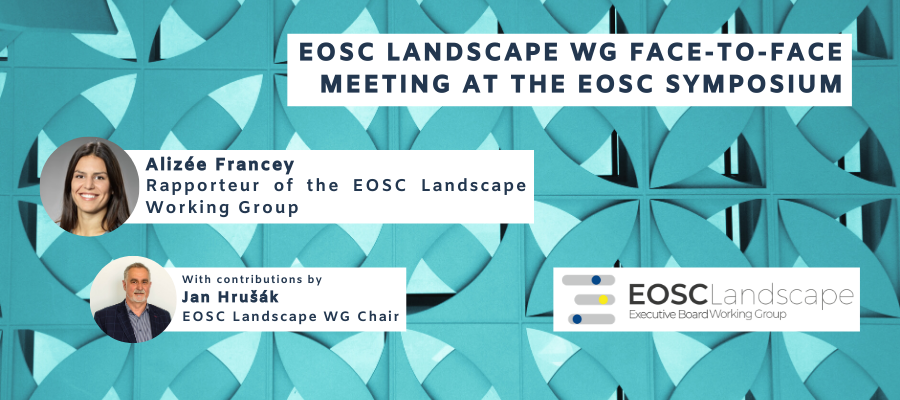 EOSC Landscape Working Group met during EOSC Symposium
---

10 Jan 2020
EOSC Landscape WG third face-to-face meeting at the EOSC Symposium
On the 27th of November 2019, the EOSC Landscape Working Group met in Budapest during the EOSC Symposium. During this 3rd F2F meeting, the Working Group members discussed the current stage and next formal steps towards the next version of the Landscape Analysis Report.
The next step for the Landscape Analysis Report is to include country sheets from EU Member States and Associated Countries. Indeed, as previously agreed within the Working Group, the country sheets will allow to condense the information in a uniform format. The information provided will then go through a consolidation process and will serve as a pilot to understand the possible diversity of the responses gathered. This consolidation will take place throughout January 2020.
Moreover, the Working Group discussed seven pan-European topics, which could be addressed by the INFRAEOSC-5b projects throughout the evaluation of their survey. These topics are related to the Sustainability Working Group to be included in the analysis.
Finally, as the country sheets and the respective content will go through a validation process, the EOSC Landscape WG discussed the organisation of a Validation Workshop. This Validation Workshop has to be seen as a chance for the EU Member States and Associated Countries to validate what the Working Group has been doing so far. The first practicalities were discussed during this 3rd F2F meeting. The Validation Workshop is expected to be a noon-to-noon invitational event and to take place in Brussels. More details about the dates and location will be shared shortly.
Also, if you are interested in becoming a stakeholder of EOSC, you will find prompt information about how to get involved on the EOSCsecretariat website. Feel free to join!