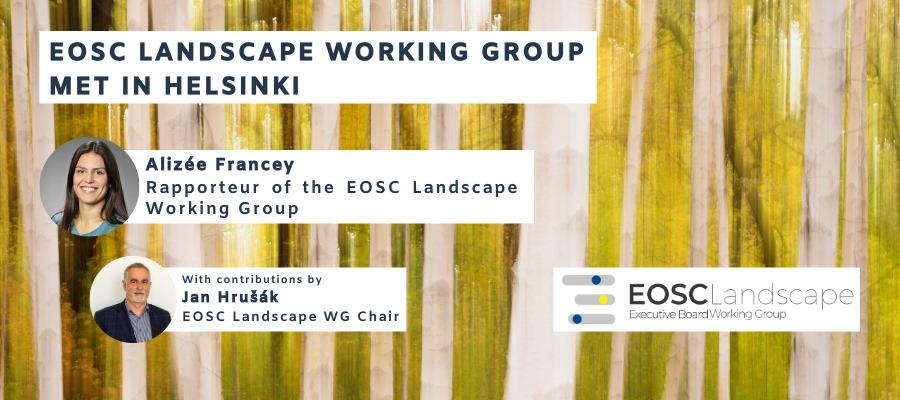 EOSC Landscape Working Group met in Helsinki
---

04 Nov 2019
By: Alizée Francey (Rapporteur of the EOSC Landscape Working Group), with contributions of Jan Hrušák (Chair of the EOSC Landscape Working Group)
On the 23rd of October 2019, the EOSC Landscape Working Group (WG) met in Helsinki. During this 2nd F2F meeting, the WG members reviewed the process of the Landscape Analysis report and looked forward the upcoming steps.
Concisely, the WG agreed to condense the information gathered in a more uniformed format as the report needs some analysis. Regarding the next steps, several elements need to be considered but mainly the following: a completion of data gathering (filling in the gaps) as well as a synthesis and analysis with the help of an external consultant. Moreover, a Validation Workshop will take place, which will help identifying the potential gaps regarding the methodology as well as the outcomes (two rounds of validation processes). Also, in order to better involve the WG members in the drafting process in an efficient manner, country sheets will replace the current information. The idea is to provide a similar level of description so that the information provided can be comparable. Therefore, the WG members brainstormed elements to be included in the template. The WG will use a report from e-IRG summarizing a lot of information as a starting point but look for more detailed information where needed.
The WG would like to thank the partners of CSC - IT Center for Science Ltd. for organising the meeting at the Aalto University.
The next F2F meeting is foreseen on Wednesday, 27. November 2019 during the EOSC Symposium, which is taking place in Budapest from the 26. - 28. November 2019 (programme). The Landscape WG will be active in several sessions notably:
Breakout 1: 26. November 2019, 11:30-13:00 - Legal status of EOSC, chaired by: Rupert Lueck, EOSC Sustainability WG | Related EOSC WGs:  Sustainability WG, Landscape WG | Room: Panorama.
Closed F2F meeting: 27th November 11:30 - 13:00 + 14:30 - 16:00, chaired by Jan Hrusak | Venus 
Breakout 5: 28. November 2019, 9:00-11:00 - Call5 Projects Landscape Task Force and the EOSC Landscape WG closed meeting | Venus
These sessions will be good opportunities for anyone to meet the members of the Landscape WG!