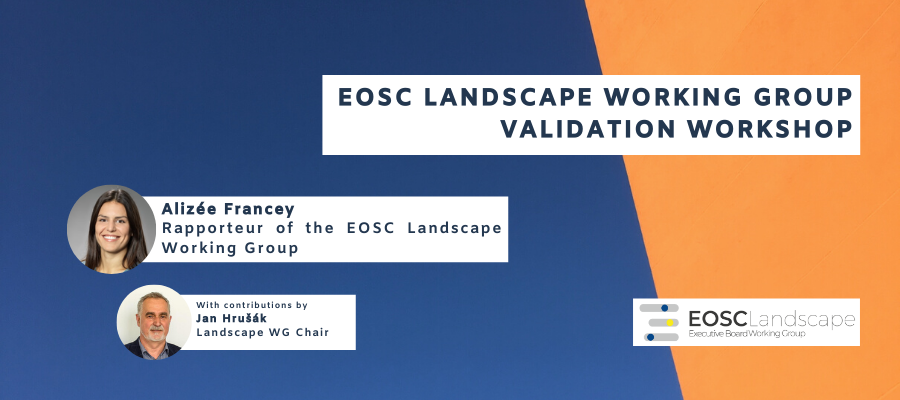 EOSC Landscape Working Group Validation Workshop
---

25 May 2020
By: Alizée Francey (Rapporteur of the EOSC Landscape Working Group), with contributions of Jan Hrušák (Chair of the EOSC Landscape Working Group)
On 27. and. 28. April 2020, the EOSC Landscape Working Group (WG) Validation Workshop took place remotely (via Zoom), where altogether 160 stakeholders participated. In order to favour feedback and interactions, some materials have been shared before the event including the welcoming and introduction sessions previously recorded by the Landscape WG Chair, Jan Hrušák and the European Commission Contact Point, Thomas Neidenmark. Moreover, the draft report has been shared with the participants as well as some guiding questions to be brainstormed and reflected beforehand.
The goal of the event was to discuss and validate the Landscape Report "Landscape of EOSC related infrastructures and initiatives" first draft with the experts from Governance Board (GB), Executive Board (EB) as well as INFRAEOSC-5B projects, ESFRI research infrastructures, ESFRI clusters, EOSC-hub, FAIRsFAIR, and the other EOSC EB Working Groups.
The Validation Workshop was organised into different sessions addressing the following items: EOSC relevant stakeholders; EOSC relevant infrastructures and initiatives; National policy and legislation strategies and; Future prospects on the landscape report. Each of the sessions' Chairs raised several guiding questions and feedback was mostly gathered using Slido, allowing interactions with the audience. Moreover, the participants had the possibility to provide additional comments concerning the Landscape Report via email.
The Workshop's fruitful discussions broadly validated the WG preliminary findings gathered in the report. The outputs of the discussion have been saved, clustered, and analysed by the WG members. The provided feedback now enables the WG to refine the content. Furthermore, some gaps were identified and most of them will be tackled in the analytical part still to be drafted, which will notably provide national approaches to EOSC and the preparedness of EU Member States and Associated Countries for EOSC implementation.
If you would like to get in touch with the Landscape WG, please do not hesitate to contact it by the mailing list inform-landscape-wg@eoscsecretariat.eu.
Last but not least, if you are interested in becoming a stakeholder of EOSC, please visit the Liaison Platform and make your voice heard. Feel free to join!