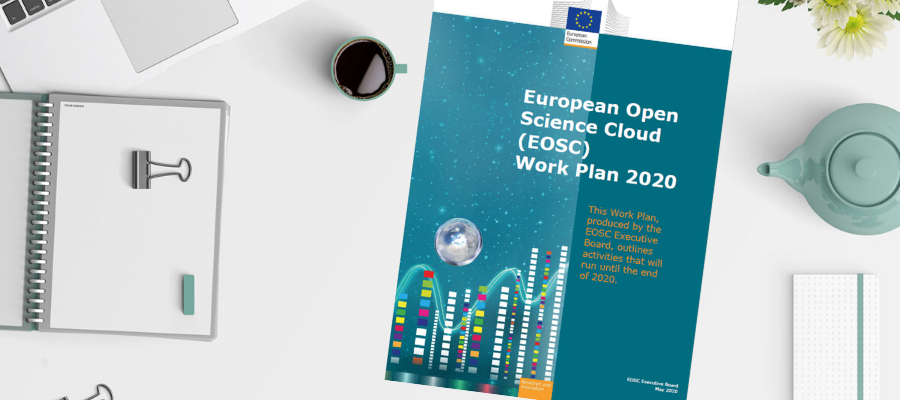 EOSC Work Plan 2020 published
---
The EOSC Executive Board has published its second version of the EOSC Work Plan. The plan is a co-ordination document that outlines key activities in this critical final phase of implementation before the 'Minimal Viable EOSC' will be presented at the end of 2020.
The document provides information on the EOSC-Core and two initial use cases which demonstrate how EOSC enables cross-discliplinary research. In addition, an update is given on the activities of the EB its 6 Working Groups including main outputs listed below:
Strawman and Tinman papers on EOSC sustainability (Sustainability WG)
Report on the landscape of national infrastructures, funding models, strategies and policies (Landscape WG)
A draft Persistent Identifier (PID) Policy (FAIR WG)
Initial Rules of Participation (RoP WG)
Initial papers on FAIR metrics and service certification (FAIR WG)
A partnership proposal for the continuation of EOSC as a Co-Programmed Partnership of Horizon Europe (Executive Board)
In the next six months the EB will produce drafts and final recommendations on the topics above as well as define the following:
A legal entity and post-2020 governance structure (Landscape & Sustainability WGs)
A Strategic Research & Innovation Agenda (SRIA) (Executive Board)
A Multi-Annual Roadmap (MAR) (Executive Board)
AAI Principles and Architecture document (Architecture WG)
PID Technical Architecture document (Architecture WG)
EOSC Interoperability Framework (FAIR, Architecture and RoP WGs)
Training catalogue specifications, a minimal skill set for EOSC, and organisational models for competence centers (Skills and Training WG)
Input into the work plan comes from a vast range of sources, namely the Executive Board and Governance Board, but also very much from the EOSC stakeholder community and projects. The EOSC community most recently inputted in the stocktaking exercise that was the EOSC Consultation Day.
A Minimal Viable EOSC comprises of an EOSC-Core which enables the federation of existing and planned research data infrastructures, as well as layers of federated data and services in the EOSC Exchange.
The EOSC Executive Board is currently inviting the community to express their interest in joining the EOSC Association, you can learn more from EOSC EB Co-chair Cathrin Stöver.