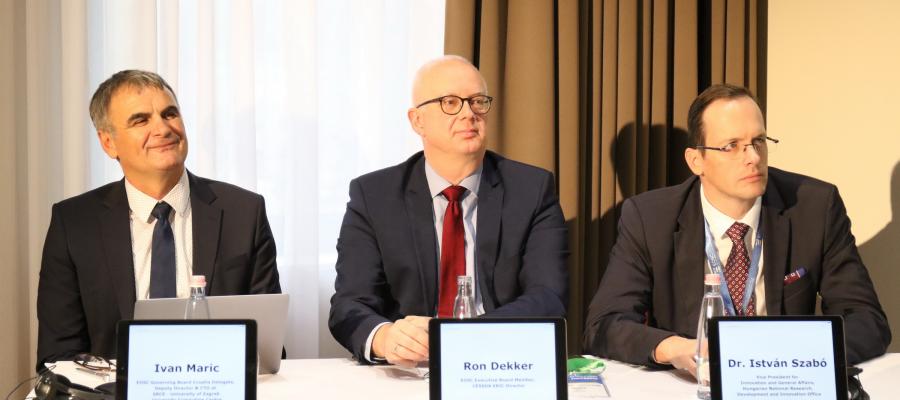 European Open Science Cloud On Track To Boost Europe's Research Capabilities by 2020
---
Europe's leading research institutions meet at the EOSC Symposium in Budapest to take stock in the EOSC's progress
 
Implementation of the European Open Science Cloud (EOSC), a Europe-wide ecosystem that will empower millions of researchers and science and technology professionals through the whole research lifecycle, is on track for its full launch by 2020.
This was revealed at a press conference as part of the EOSC Symposium being held between 26-28 November 2019 by key figures working on the EOSC. 
The European Open Science Cloud (EOSC) is an initiative supported by the European Commission (EC) that aims to provide researchers, and science and technology professionals the means to collaborate on some of the world's most pressing societal challenges like never before. The EC provides financial support to implement the EOSC by means of projects under the EU Framework Program for Research and Innovation (Horizon 2020).
"EOSC will empower 1.7 million European researchers, and 70 million professionals in science and technology. This will be achieved through building a system based on cooperation and connecting Europe's research infrastructures and e-infrastructures," Ron Dekker, EOSC Executive Board Member and CESSDA ERIC Director said, adding that "EOSC embraces the transformative power of open science. It will enable interdisciplinary research and address Europe's societal challenges. EOSC will support the Digital Single Market and stimulate innovation and the emergence of a competitive EU cloud sector."
EOSC represents a key aspect of the EU Digital Single Market in terms of increasing digitization in society, and putting Europe's digital assets at the disposal of scientists. For science to achieve this, the perfect conditions are required and the EOSC is a key element of these conditions.
"EOSC is a trusted and open virtual environment for the scientific community with seamless access to services addressing the whole research lifecycle. Focused on researchers needs, inclusive and respectful of diversity, accessible to all, transparent and trustworthy, and governed by a minimal set of Rules of Participation, it represents a unique European game changer," Ivan Maric, EOSC Governance Board Croatia Delegate and Deputy Director & CTO at SRCE - University of Zagreb University Computing Centre said.
Vision
The vision of EOSC was conceived in 2015, and a prototype was officially launched in November 2018, with access to initial services via the EOSC Portal. This first iteration of EOSC aggregates services from local, regional and national e-Infrastructures and service providers. 
For researchers, this means a broader access to services supporting their scientific discovery and collaboration across disciplinary and geographical boundaries. EOSC will take advantage of the existing infrastructure in Europe as it envisions a pan-European federation of data infrastructures built around a shared core. 
EOSC will:
foster best practices of global data findability and accessibility;
help researchers get their data skills recognized and rewarded;
help address issues of access and copyright and data subject privacy;
allow easier replicability of results and limit data wastage;
contribute to clarification of the funding model for data generation and preservation, reducing rent-seeking and priming the market for innovative research services.
These concepts promote the idea of opening up European research and innovation systems to move towards a reality where knowledge is created through global collaborations.
"We are building EOSC as an attractive virtual platform, where science creators, science consumers and science policy makers come together for more insights, new ideas and more innovation. Data and service richness and diversity of EOSC have great potential in attracting many people thus creativity of new ideas will follow, benefiting Europe and its citizens," Ivan Maric said.
Europe-wide mobilisation and alignment
"EOSC is built in iterations. From involving the research communities to ensure an ecosystem built by the users, for the users, and based on FAIR (Findable, Accessible, Interoperable and Reusable) data principles. All this means not just developing a tool or a software, but enacting a cultural change at how research is produced," Ron Dekker said.
Building the EOSC requires Europe's research institutions and infrastructures to align and co-develop the EOSC. This has been going on through the past years since 2017 and it becomes even more critical as we move towards the 2021 target. 
Ivan Maric said, "European Member States and Associated Countries, by embracing e-Infrastructure coordination at the national level, by building strong national e-Infrastructure building block and by strong and concrete support of the FAIR principles concerning data and services, will make a crucial step to success of EOSC."
Hungary Backs EOSC
Hungary is one of the Member States that supports the EOSC. Dr. István Szabó, Vice President for Innovation and General Affairs of the Hungarian National Research Development and Innovation Office (NKFIH) in a statement said, "Hungary has taken steps towards open access in science, therefore, we have been supporting the EOSC initiative since the beginning. We expect that Hungarian researchers will be more embedded internationally. Furthermore, EOSC offers huge space for innovation as well."
He cited the country's current involvement in important EOSC-contributing initiatives such as the Hungarian National Node of the Research Data Alliance - Europe as well as the activities of KIFU and University of Debrecen in NI4OS-Europe (National Initiatives for Open Science in Europe) which will contribute services to the EOSC portfolio.
Synchronising Efforts
Alignment and synchronisation is key to the success of the EOSC and its governance. The EOSC Governance Board (GB) consists of representatives from the Member States and Associated Countries to ensure effective supervision of the implementation of the EOSC.
Work on the EOSC is steered by the 11-member EOSC Executive Board, a body of representatives from the research and e-infrastructures communities, appointed by the EC. The Executive Board is chaired by Karel Luyben (European Association of Universities of Technology – CESAER) and Cathrin Stöver (GÉANT). All Executive Board members are appointed in a personal capacity and represent Pan-European organizations of relevance for the EOSC implementation.
The EOSC Symposium gathers together the future beneficiaries and users of the EOSC. The event is co-organized by the EOSC Secretariat and other initiatives such as EOSC-hub, GEANT, OpenAIRE and PRACE in collaboration with the EOSC Governance Board, Executive Board and its Working Groups (Architecture, FAIR, Landscape, Rules of Participation, Sustainability). The symposium ensures the participation of the community in shaping the EOSC, supporting the work of the governance boards and contributing to the direction EOSC will take.