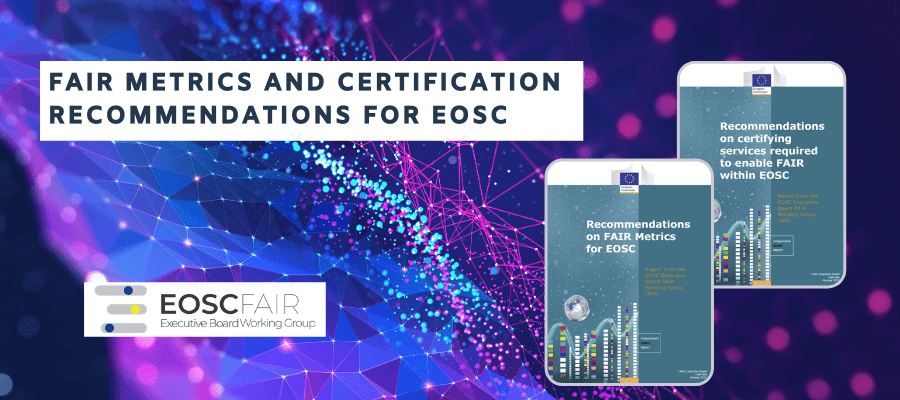 FAIR metrics and certification recommendations for EOSC
---

13 Jan 2021
Two further reports with recommendations have been released by the FAIR Working Group:
FAIR metrics for EOSC
The FAIR metrics report proposes a set of metrics for FAIR data in EOSC, taking the RDA FAIR Data Maturity Model indicators as a baseline. The required metrics will incrementally evolve as the sector matures, as seen in the table abstract below. The use of Persistent Identifiers is required from 2021, however globally unique PIDs is proposed from 2024 onwards. Similarly, rich metadata is required from 2021, but this metadata being offered in a harvestable format is deferred until 2024, and the "richness" of metadata will evolve over time.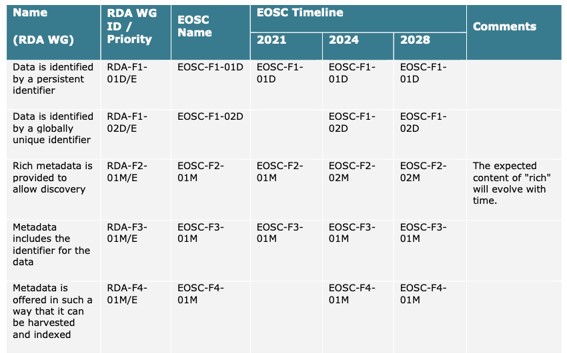 Image: Proposed timeline for the "transitory" criteria in the EOSC FAIR metrics
The report strongly recommends that the proposed metrics are extensively tested and validated. The definition of metrics should be a continuous process, taking feedback from implementation into account to ensure requirements are inclusive and fit the diversity of research community practice.
Service certification
The certification report reviews the status of certification schemes for repositories and makes recommendations on aligning these with the FAIR principles and implementing them with EOSC. CoreTrustSeal, which is a community-driven, international framework is proposed as the right level for research data repositories. The Working Group was initially tasked to define the certification approach for repositories in EOSC but decided to expand the remit to other critical services for enabling FAIR, such as PID infrastructure and registries of metadata standards and controlled vocabularies.
The report concludes that at this stage, certification status cannot be a necessary condition for a repository or other key components to be included in EOSC. However, it strongly recommends that repositories and services wanting to join EOSC use the certification framework criteria to check and improve their practices, with the aim to progress towards certification. The EOSC Association should monitor progress and assess the maturity of the certification landscape, taking appropriate action if fields or regions are lagging behind, and ultimately introducing a requirement for critical services in the coming 3-5 years if deemed appropriate.
Download the reports now!