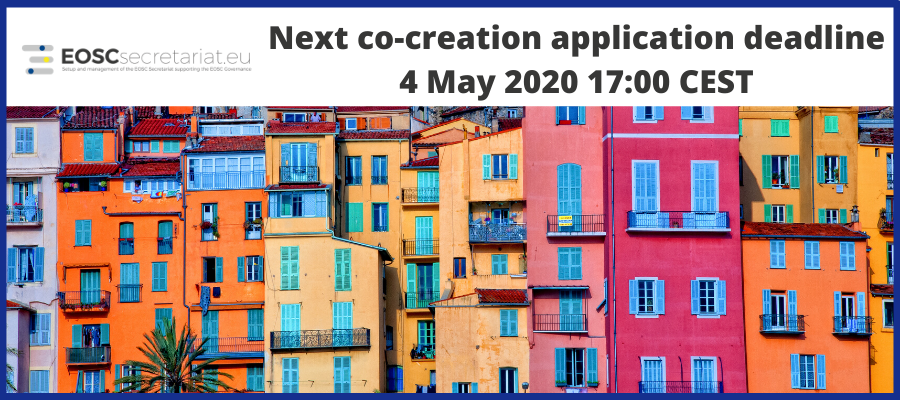 Co-creation funding opportunities - Next application deadline on 4 May 2020
---
These are crucial months for the development of the European Open Science Cloud, towards the creation of a Minimum Viable EOSC by the end of 2020. There are many ways to involve stakeholders and ensure that the EOSC will meet their needs, and the co-creation funding opportunities provided by EOSCsecretariat.eu are definitely one of them.
Each month, EOSCsecretariat.eu carries out a selection for relevant EOSC-related activities, providing funding for studies, analyses, workshops, events, and other key contributions to the EOSC mission. Here you can find a list of all the previously approved activities, as of the end of March 2020.
The sustainability of EOSC
Taking into account the feedback received over the past few weeks, the EOSC Sustainability Working Group identified several areas that will need further study and support from the community:
Additional legal advice to create the legal entity
Costing exercise to determine the operational costs of EOSC. In addition, the full value chain of EOSC should be described, identifying key roles, models and actors.
EOSC-Exchange: Marketplaces for public and commercial providers. Determine the business models, participation, access, risks and opportunities for EOSC Exchange.
Expanding EOSC: Engagement of the wider public sector and private sectors in EOSC
EOSC risk assessment
Long-term data preservation roles and responsibilities
A fast-track funding procedure for activities related to COVID-19
EOSC is especially an ideal tool to respond to public emergencies such as the COVID-19 virus. EOSCsecretariat.eu responded to this urgent international challenge by introducing a fast-track procedure to apply for co-creation funding, specifically dedicated to activities related to COVID-19. You can apply for this specific call directly via this link.
Do you have an idea that will help co-create the EOSC? Apply for funding now!