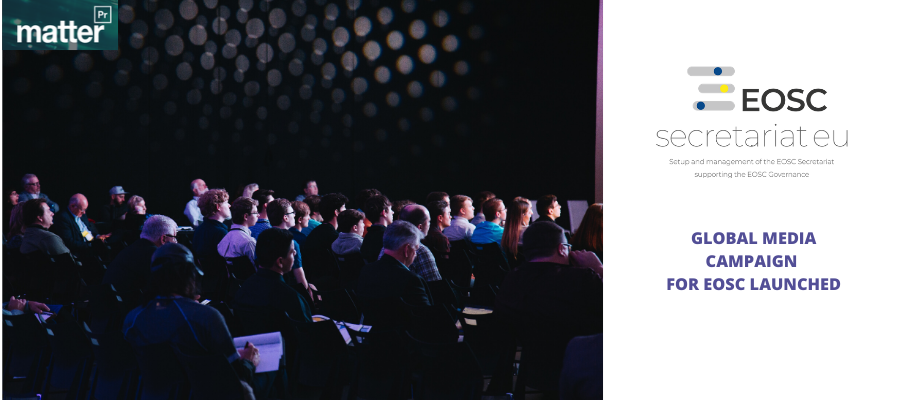 Global media campaign for EOSC launched
---
In an effort to reach a wider audience and involve new stakeholders, Matter PR has been selected as part of the EOSC Secretariat co-creation programme to deliver a global media campaign for the European Open Science Cloud.
The EOSC Secretariat maintains a co-creation programme that funds external organisations that carry out activities that help support the establishment of EOSC. This ensures inclusiveness and growth of the EOSC stakeholder community. As the EOSC heads towards its establishment as a legal entity and key player in European research, the need to communicate the initiative and involve more stakeholders has become crucial.  
After a competitive selection process, Matter PR was selected to support the EOSC Press Office managed as part of the EOSC Secretariat Communication, Dissemination, Stakeholder forum and events activities. They will provide media relations support and strategic advice to increase the visibility of the EOSC.
EOSC Secretariat Communication, Dissemination, Stakeholder Forum and Events Work Package Leader and Trust-IT Services Senior Project Manager Nicholas Ferguson said, "Matter PR will help us reach out to new audiences and promote the benefits of the EOSC to researchers from many different disciplines. We chose Matter PR because they have a long track record of delivering high profile media campaigns for complex European research collaborations and have an impressive network of global media contacts."
Matter PR specialises in helping organisations translate complex scientific projects into compelling stories which help communicate the importance and potential impact of their work. Established in 2013, Matter PR is one of the only agencies specialising solely in engineering, science and technology.
Matter PR Managing Director David Reid said, "Covid-19 has shown how important it is for scientists and researchers to work collaboratively across borders and scientific disciplines. If researchers can share their data, software and infrastructure easily and quickly, science will benefit from greater economies of scale and less wasteful duplication. This European initiative will help provide a platform to give Europe a global lead in Open Science, completely transforming how data is used in research, so we are very excited to be working with EOSC at such a critical time."