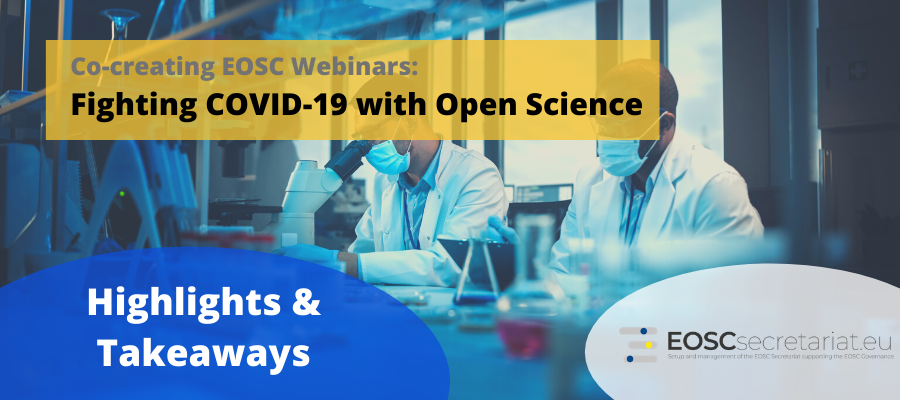 Highlights & Takeaways: Co-creating EOSC Webinars Fighting COVID-19 with Open Science
---
The first EOSCsecretariat.eu co-creation webinar took place on 13 April 2021, presenting four impressive projects funded under the COVID-19 fast-track funding, launched in early 2020.
The webinar clearly showcased the multiplicity of applications of Big Data and AI in the fight against COVID-19, from mapping and prediction of geographical COVID hotspots to an AI assistant for triage.
The Presentations
The research carried out by Jamal Jokar Arsanjaniand his team at Aalborg University Copenhagen showed that population density, public places such as cafes and bars, and pollution levels are the most influential explanatory variables of COVID-19 outbreaks. He also explained that the prediction models were limited by the lack of fine scale data at a neighbourhood level. The project demonstrated how geographical data, tools, and methods can provide unique insigts to understanding the evolution of the pandemic and could be used to create more effective lockdown measures.
Andrzej Jarynowski from Interdisciplinary Research Institute, Wrocław, together with his team put together an open dataset of media material relating to COVID-19 in Polish. They discovered that the local media were more reliable than the national media and that open data repositories allow for greater control of information in comparison to media monitoring agencies.
Automaise's project actually created a tool to help reduce stress on health support phone lines during the height of the pandemic. Ernesto Pedrosa, Automaise CEO, presented their AI Digital Assistant which was able to perform triage, giving a precheck of symptoms and then letting the user know whether they should contact health services or not. 
The final presentation was from Ivana Mišová, whose company Direct Impact created a easy-to-navigate database of promising substances for COVID-19 treatment freely available at covid19-help.org. It combines IT tools such as AI and human expert processing of scientific information. The result of the project is the most comprehensive free database of promising substances for COVID-19 treatment. The database contains structured information about 1,367 substances (as of the end of February 2021) that attracted more than 11,000 unique visitors in February 2021.
Key Takeaway from the Discussion
The presentations were followed by a round table discussion. One theme that was repeated throughout the session was the need for FAIR (Findable, Accessable, Interoperable, and Reusable) data, and how difficult it currently is to find relevant data sets to train AI or create models etc. This results in many researchers wasting time sifting through datasets trying to find those suitable for use.
Making research data FAIR is precisely one of the key objectives of the European Open Science Cloud, and we invite the research community to become an active part of the EOSC initiative.
Wish you had followed the webinar? Good news! The recording and presentations are available on our website here!