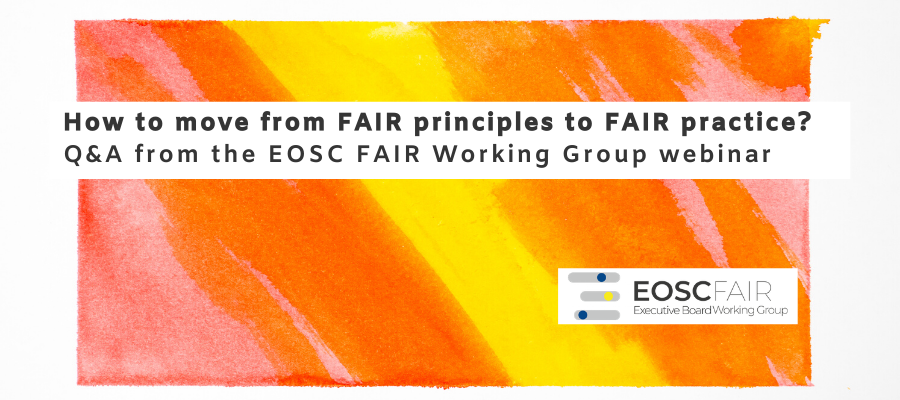 How to move from FAIR principles to FAIR practice? Q&A from the FAIR WG Webinar
---

10 Jul 2020
In our recent webinar on FAIR Practice (9 July 2020) many questions were asked and the first feedback on our reference list and report was already received. We were not able to address all comments directly. In this post we attempt to address all the issues that were raised
The presentation slides, recording of the webinar and links to the resources: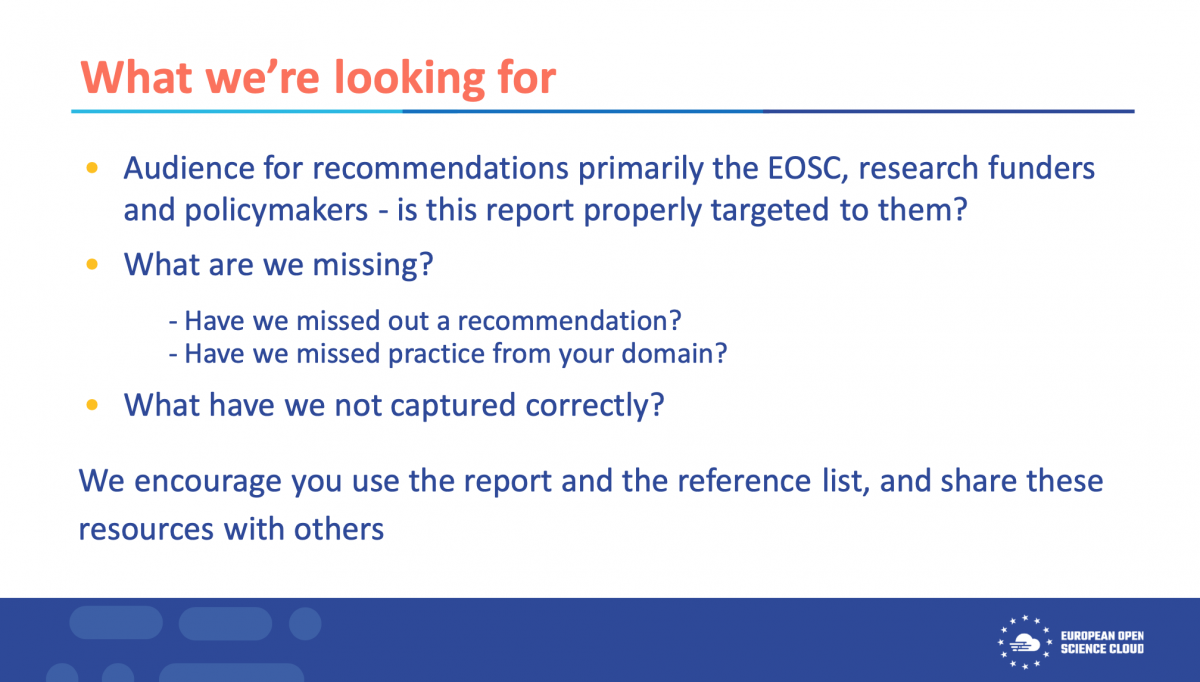 Is the report based on a strict interpretation of FAIR eg FAIR maturity models, FAIR Data Objects etc, or a more loose interpretation based on the researchers understanding of FAIR?

The report mostly uses the looser interpretation of FAIR. Different interpretations of FAIR in communities are an essential aspect of what we need to capture. We have attempted to interpret actual practice in the light of our own interpretation of the FAIR principles. As part of our work we have also looked at reports and studies which predate the FAIR guiding principles or do not directly reference FAIR but which actually show FAIR practice; we have also taken these into account in our description of those communities.

Have FAIR been interpreted as open data?

This is one of the social impediments that some communities have encountered; along with several other misinterpretations of FAIR. You will find that this is covered in our section on "social impediments".

It is interesting that you've included documents that pre-date the FAIR principles. Is there a way to filter to give results related to these documents only?

No, except for manual filtering. Most of the documents are dated, but not in a way that can be used by an automated filter. This is good feedback and see if we can revise it. Note that there may be a difference between the date of publishing and the date of the practices it describes.

I don't see FAIRsharing Tools, FAIR data maturity models Guidelines, RDA SHARC FAIR Template in the FAIR practice googlesheet… isn't it in scope? Is there any link with the FAIR Data Maturity Model from the RDA?

The tools you mention are technical developments and social enablers. Where these have been reported in reports on our reading list, they have been taken into account. In addition, our research was focused on disciplinary practices, and tools, maturity models are mentioned in such context. For example, astronomy provided us with their evaluation against the FAIR Data Maturity Model proposed by RDA, which was used to describe practices characteristic for Astronomy.
There may be many other good resources that we may have missed. We looked at reports and studies - we have missed some tools  because there may have not been a paper out or the tools may have not been reported yet. If you add these to our reference list, we would like you to also point out the specific conclusions you would highlight.

Also missing are references to GO FAIR's 3-point scheme. I guess, given previous comments, some discussions with existing FAIR institutions may be required in a further step.

The 3-point schema for making data FAIR is a very recent technical development that indeed was not yet described in any of our input documents.

So, if a FAIR tool has been created/developed - but not yet used in practice - then, this tool will not be included in your reference list? 

The report takes a wider perspective, and includes references to tools to help FAIR practice where there have not yet been studies on their use. The reference list is more focussed; we have only analysed in detail tools and practices where there has been some study of their use in specific communities.

Any reflections on international aspects of where publications are coming from or interpretations of FAIR? I saw a few resources on the list from the Global South but am curious what the wider situation might be.

The Task Force, with its assignment from the European Open Science Cloud, focused on Europe. However, many disciplinary groups that we studied are international and are not limited to Europe. ESFRI infrastructures are in Europe specifically, but in other communities standards and practices are aligned world wide. If we missed any problems or practices from other continents, which might be of relevance to the EOSC, we would be grateful for specific comments and explanation. Although EOSC is "European", it has been clear from the beginning that it will not operate in a vacuum, and that ultimately research collaborations must be world-wide.

Is it possible to suggest documents that are not in English

Yes. We understand that some studies of FAIR practice have taken place at regional level. Feel free to add references that are not in English. Please also suggest conclusions about the FAIR practices described in such documents to us in English.

Talking about challenges, can you highlight a couple of researcher-specific challenges in FAIR practice from your current work in the TF of the FAIR WG?

Looking at FAIR practice for software, a specific challenge is that the metadata used to describe software to make it more findable, accessible and reusable is often not easily passed between different infrastructures. This means that a researcher who is trying to make their software FAIR, e.g. when publishing a paper, has to manually copy and correct the metadata stored in the code repository, digital repository and publication submission system, rather than it being automatically copied from one to the other. This is not a problem that the researchers can directly solve (it is up to the infrastructure) but it is a challenge that the researchers face.
We have seen a lot of researchers struggle with the term "metadata". The FAIR principles often apply to "(meta)data" as a shorthand for "both data and metadata", but the single word "metadata" does not sufficiently explain that there are many different kinds of documentation that need to be completed: separate types of documentation for each of the letters of FAIR.
Often researchers do not think of FAIR principles or FAIR as a definition in general. The FAIR concept is more used by policy makers and research administrators. For researchers FAIR too often seems to be felt as an additional burden to their work rather than as a benefit for research projects.
Another thing that the researcher often faces a lot of choices - where to put my data, will it be FAIR where I put it, what standards to use etc, and these choices are complicated by the fact that funders and institutions have different expectations.

The Seven Recommendations, is the order of them on purpose or random?

We tried to put them in the order mirroring the process of our work: we started from practice and went all the way to the policy. Sometimes these go in parallel, so the ordering is not perfect. If you have any suggestions for  a different order in which they could be presented, these remarks are welcomed.

Will there be a version of the report aimed at the research community in general?

Our assignment is to advise the EOSC governance, so that is the target audience of our report. However, we have worked closely together with the currently operating EOSC H2020 projects; especially FAIRsFAIR. FAIRsFAIR has deliverables that contain descriptions of FAIR practices across research disciplines, and these are also written with different groups in the research communities (researchers as well as service providers) as target audience. Our reports are therefore complementary to each other and we cross-refer to each other's reports.

Did you take into account the relationship between your report and recommendations and those from the Turning FAIR into a Reality report?

Yes, Turning FAIR into a Reality report was one of our references while writing the report, and a starting point for this work.

Skimming the recommendations, I think you set much store by communities (which makes good sense). "Yet" the recommendations address EOSC governance. What do you see as effective channels between these kinds of stakeholders? Research Infrastructures?

Our group will be operating only until the end of 2020. After that, the research infrastructures, representing many of the disciplinary communities, are indeed a good channel to communicate about the practicalities of FAIR implementation with the governance of the EOSC. Another role can be played by the H2020 EOSC Cluster projects.
In the report we explain that change of practice needs to happen at a community level. We give examples where the governance of a community is very strong, e.g. astronomy, and we see how that plays a role in establishing FAIR practice. Not every community is part of a big infrastructure; not every community has governance structure in place. Through funding, rewards etc, the EOSC, funders and policymakers can help communities put FAIR into practice.
EOSC guidance, expectations and standards also affect national and institutional policies. Not all institutions are aware of EOSC yet, but those who are, will follow EOSC recommendations.

The report is aimed at "decision making entities". This has to do with allocating budget. Quite some recommendations have to do with allocation of budget, how to spend money. Do you think the reasons to spend the money as stated in the recommendations, are taken into consideration in a convincing manner?

Yes. The permanent governance of EOSC is currently being designed; recommendations by our group and the other Working Groups are taken into account in this process. In the end the governance will influence the decisions over the budgets.

Will the report identify resources which can be used for training communities to understand and adopt FAIR

It has become clear from our studies that training is an important part of FAIR becoming reality: it will overcome several of the social barriers that we have identified. The FAIR Practice Task Force was not set up to come up with a definitive list of training resources - this is something which other initiatives such as the EOSC Training and Skills WG and FAIRsFAIR are doing.
Our report references many resources which have been used by others to help communities understand and adopt FAIR, along with some analysis of where this has been effective. The reference list can be used to filter and identify social and technical impediment to FAIR practice from different domains.
During our research, we found that there are various organizations, universities, libraries and projects who teach Open Science including FAIR principles - these are not included since we looked specifically for FAIR practices in research communities.

Thought that this will be a training document with recommendations, but this is a catalogue of what is done.

You are correct. We were set up with the assignment to advise the EOSC governance and we are not producing any training materials ourselves.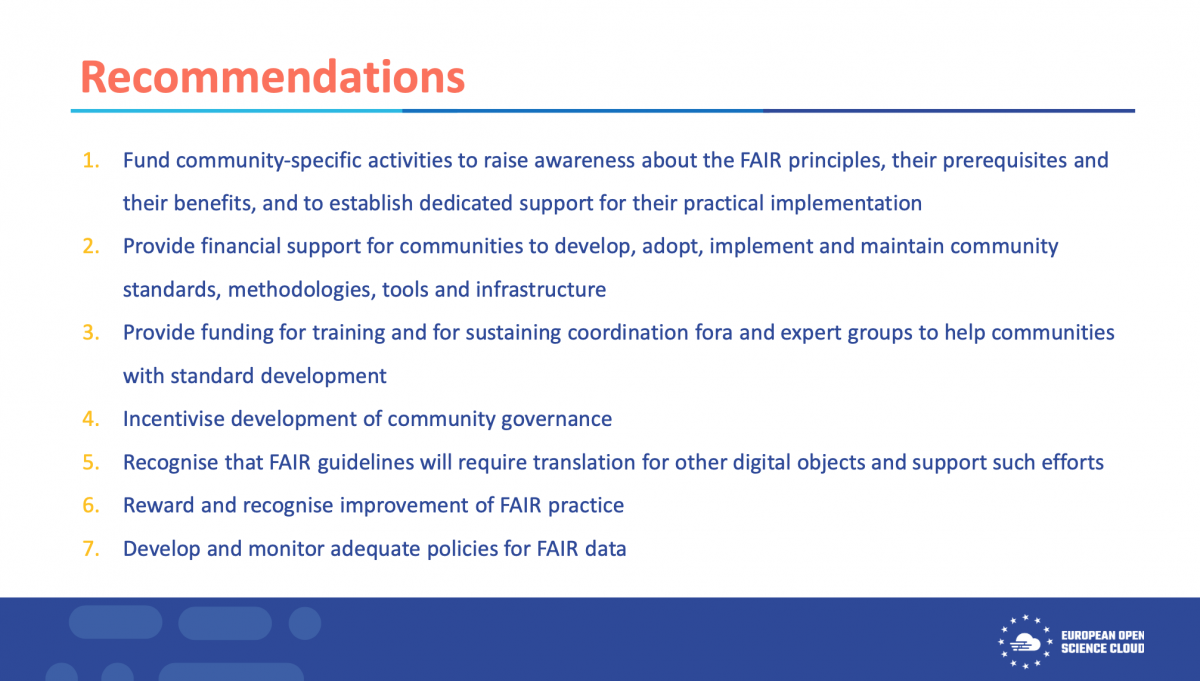 We also thank those who suggested the following resources for us: