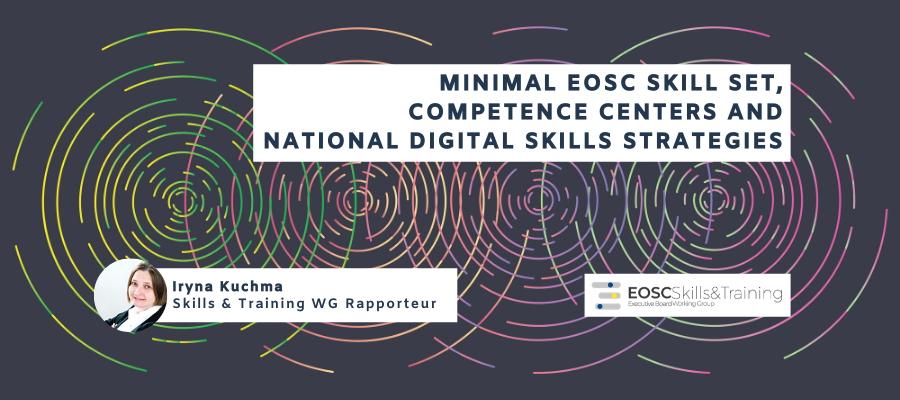 Minimal EOSC skill set, competence centers and national digital skills strategies
---

26 May 2020
By: Iryna Kuchma, EOSC Skills & Training WG Rapporteur
We are happy to welcome the EOSC training project representatives who joined our EOSC Skills and Training Working Group, which now includes 38 members from 20 countries. In the past couple of months we've been working in three Task Forces on the minimal EOSC skill set, organizational models for competence centers and national digital skills strategies – see an overview and some results in our presentation at the EOSC Executive Board Consultation Day (download pptx). 
Establishing a skills development framework and identifying and prioritizing open science and digital skill sets for EOSC, targeting researchers – for open science and RDM practices, service providers – for providing their services to EOSC – and policy makers – on how to align with open science and data policies – are the objectives of the EOSC Minimal Skillset Task Force. A draft diagram to improve the visibility of the EOSC users system, with specific training needs, of e.g. different scientific communities, individual researchers and institutions has been developed and discussed. And we've also started a mapping exercise/matrix of the existing skills and competences frameworks. A study to frame digital skills required in EOSC will be conducted. And certification of the skills set will be one of our focus areas in collaboration with the Task Force on Metrics and Certification from the FAIR Working Group.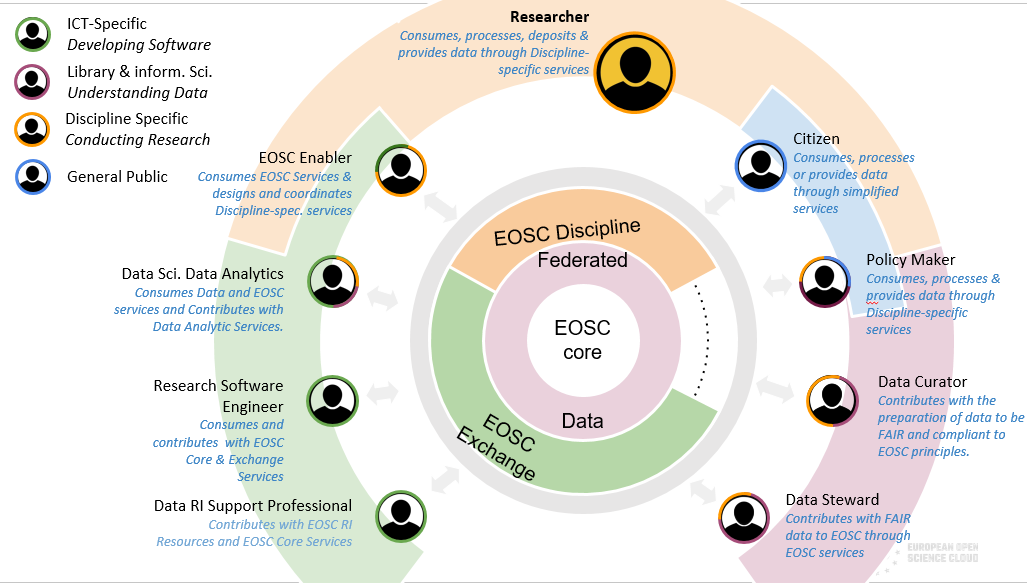 The Competence Centers Task Force is outlining organizational models for the training and skills elements of the Research Infrastructures, national and institutional competence centers targeting professional groups that support researchers in the stewardship of research outputs, EOSC-service providers, trainers and researchers – EOSC-users. A landscape analysis of the organizational models of existing competence centers is going on – what works and what doesn't work. And options for Member States and Associated Countries will be provided to implement training and education programmes for EOSC – short-term, mid-term and long-term as well as recommended coordination levels for training in EOSC. Our emphasis is on plurality – not a centralized (one) body, but a federation of competence centers with certain levels of EOSC compatibility.   
The EOSC in National Strategies for Digital Skills Task Force is working on scoping a report on how EOSC skills – FAIR data and data intensive science – and EU Digital Skills Agenda – integral components of the digital workforce – fit in wider national policies and strategies. This report will target policy makers at all levels: Ministries – on how to embed EOSC skills development in a wider digital skills agenda; Academic Institutions – on how to integrate EOSC skills building in education curricula, as well as Research Performing and Research Funding Organizations and EOSC Association. Templates for national digital skills strategies will also be provided positioning EOSC in the broader agenda. 
Our newest Specifications for Training Catalogues Task Force kicked-off last Friday. We are building on the recommendations from the workshop report "Training in the EOSC", co-organised by DANS, OpenAIRE, EUDAT, EGI, EOSCpilot D7.5 Strategy for Sustainable Development of Skills and Capabilities, FAIRsFAIR D6.2 Initial Core Competence Centre Structures and an Editorial published last Wednesday: Garcia L, Batut B, Burke ML, Kuzak M, Psomopoulos F, Arcila R, et al. (2020) Ten simple rules for making training materials FAIR. PLoS Comput Biol 16(5): e1007854.
We are also working on the Rules of Participation (RoP) for EOSC training service providers in collaboration with the Rules of Participation Working Group. Current RoP discussion draft (v0.2) defines a minimal set of rights, obligations and accountability of EOSC data and service users, providers and EOSC operators. Our focus is on onboarding the EOSC training services and on enhancing the quality, findability, accessibility and reuse of learning and training resources.  
And we are collaborating with the EOSC Glossary Interest Group on skills, competencies, capabilities and training related terminology.