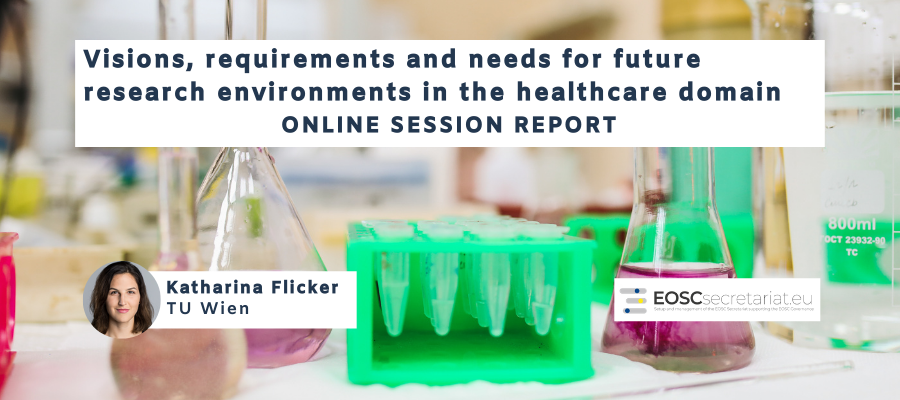 Online session "Visions, requirements and needs for Future Research Environments in the Healthcare domain"
---

16 Sep 2020
As partner of the project consortium EOSCSecretariat, TU Wien is responsible for Researcher Engagement. This task comprises the organization of workshops, consultations and an exploration series with members from university networks, funding bodies and various research communities. In order to address the latter in a structured way, TU Wien brought experts from the healthcare domain together with the aim to:
bring together a small, focused group of excellent researchers and research enablers who have a vision for and are interested in shaping the future of European research infrastructures for their domain
identify current barriers and services considered essential for a well-functioning EOSC 
obtain a better understanding on how research is changing
elaborate visions on how research will be conducted in 5 to 15 years and what the effect and impact on research infrastructures will be
provide these as seeds for public comments to involve a large stakeholder community, thus ensuring many voices are being heard and that findings are considered in EOSC implementation processes, so that the EOSC is serving our needs as researchers
Within the online-session, a broad range of topics was covered – among them reshuffling research environments, facilitating data intensive (health) systems, data and interdisciplinary research.
The discussions on Reshuffling Research Environments addressed education and Data Literacy, support for the whole research cycle, support for highly focused studies, human expert infrastructure services, and enhancing collaboration. Topics such as connecting health systems, counteracting data colonialism, civic data cooperatives and avoiding vendor-lock in as well as vendor dominance were discussed in connection with Facilitating Data Intensive (Health) Systems. Debates surrounding Data covered the trustworthiness of data as well as reproducibility in research. Focusing on Interdisciplinary Research led to the consideration of themes such as translation services and knowledge brokering. 
A full report (https://zenodo.org/record/4015121#.X1NdI8gzaUl) was published on 4 September 2020 with a 2-pager on key takeaway messages (https://doi.org/10.5281/zenodo.4030301) following soon after. Both contain a collection of services as well as actions required.
The report as well as the key takeaway messages will be sent to the governance board bodies of EOSC, EOSC Secretariat, researchers, University Networks, Funding Agencies, Research Performing Organisations and other EOSC stakeholders, thus providing input in the ongoing development processes of the EOSC. 
To access our previous reports and key takeaway messages on researcher engagement activities, please see:
TU Wien representatives of EOSCSecretariat: Paolo Budroni, Katharina Flicker, Juliana Giroletti, Andreas Rauber (PI), Barbara Sánchez, Bernd Saurugger
 
---
Interact with the growing EOSC community, join the EOSC Liaison Platform!