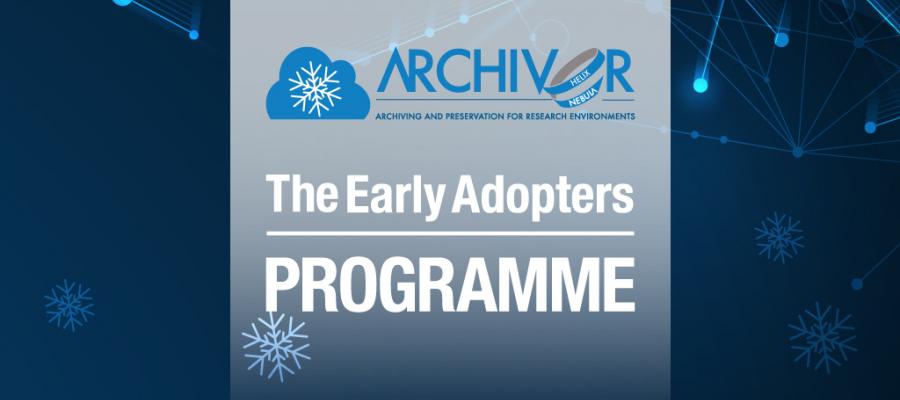 Procurement in the EOSC: Archiver's Early Adopters Programme
---
Project ARCHIVER - Archiving and Preservation for Research Environments, is launching an Early Adopters Programme organisations that want to help shape its Pre-Commercial Procurement (PCP) programme. Resulting services become will become part of the catalogue of the European Open Science Cloud (EOSC).
With deadline on September 22nd, 2019, the ARCHIVER Early Adopters Programme is open to public organisation having a need for innovative digital archiving and preservation solutions.
All the details will be discussed in the Webinar taking place on 4 September, 11am CEST.
What is the ARCHIVER Early Adopter Programme?
The Early Adopter Programme is open to organisations with a special interest in closely following the ARCHIVER PCP, from either a policy or demand perspective. It allows you to help shape the R&D carried out in the project, test the solutions developed, giving your organisation a potential route to purchasing pilot-scale services.
Why should my organisation participate?
By becoming an Early Adopter your organisation will be able to:
Be consulted during the preparation of future ARCHIVER phases;
Access material produced by the project;
Propose your own use cases that you are willing to deploy, test resulting services and assess their support for OAIS, FAIR and Open Data as well their cost-effectiveness;
Benefit from training sessions covering the services developed during the ARCHIVER project;
Have a legal basis for procuring pilot-scale services directly from the service providers, and request the Buyers Group to obtain pricing for these services on your behalf under certain conditions.
These benefits are all optional and at your discretion. As an Early Adopter, you can pick and choose the benefits that work for you and tailor your degree of participation in the project
What are my obligations as an Early Adopter of ARCHIVER?
If you become an Early Adopter, your only obligations are to:
Sign a declaration of non-conflict of interest, stating that your organisation will not submit a bid in response to the ARCHIVER Request for Tender;
Allow the ARCHIVER Buyers Group to list your organisation's name in its Request for Tenders and subsequent Call-offs;
In case of engagement in testing activities, describe the use case(s) to potentially test using the ARCHIVER services and to provide structured feedback on the testing results to the ARCHIVER project;
Acknowledge the support of the European Commission and ARCHIVER project in any publications that result from the aforementioned testing activities performed with the developed services.
How can my organisation join the programme?
Organisations interested in joining ARCHIVER as Early Adopters need to express their interests by completing the form below before September 22nd, 2019.