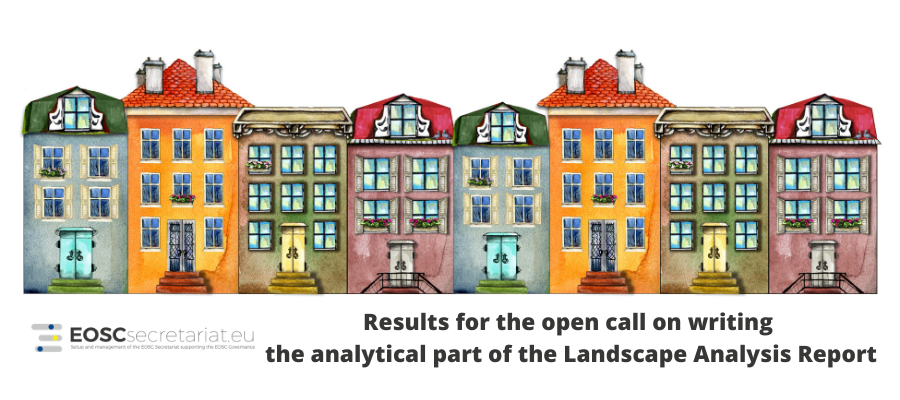 Results for the open call on writing the analytical part of the Landscape Analysis Report
---
The results from the 3rd open call have been published. The open call was for a consultant(s) to write the analytical part of the Landscape Analysis Report from the EOSC Landscape Working Group.
The Open Call saw a total of three applications from three different countries. Two of the applications were from small and medium-sized enterprises, one from academia. A team of experts from Digital Curation Centre (DCC), University of Edinburgh has been selected to take over the analytical piece for this report. This involves studying the preparedness of EU Member States and Associated Countries involved in H2020 for EOSC implementation as well as national approaches to EOSC. In addition, the team will support the Working Group in planning and organising the second Validation Workshop in the autumn to ensure that the right approach in discussing the results with stakeholders will be taken (read about the first Workshop here). The final version of the analytical part of the report is expected by mid-October.
The team is led by Dr. Thordis Sveinsdottir, a Senior Research Data Specialist at Digital Curation Centre. The other team members are Joy Davidson, Research Associate, and Ryan O´Connor, Research Analyst, from DCC. Davidson is also involved in FAIRsFAIR project.
Evaluation criteria
An evaluation team consisting of two persons from EOSC Secretariat and one from the Landscape Working Group evaluated the applications. Evaluation considered i) the work plan and methodology ii) expertise and professional experience of the applicant(s) in landscaping analysis and in the research sector and/or with organizational analysis. Proven experience in the following areas was valued especially: Experience in working in European RI and/or e-Infra landscape, Landscape analysis, Mapping analysis, Survey definition and procedures, Stakeholder analysis, Sociology and/or data analysis, Activity planning and coordination.
A final pool of applicants were interviewed by the evaluation team and the project coordinator of EOSC Secretariat.