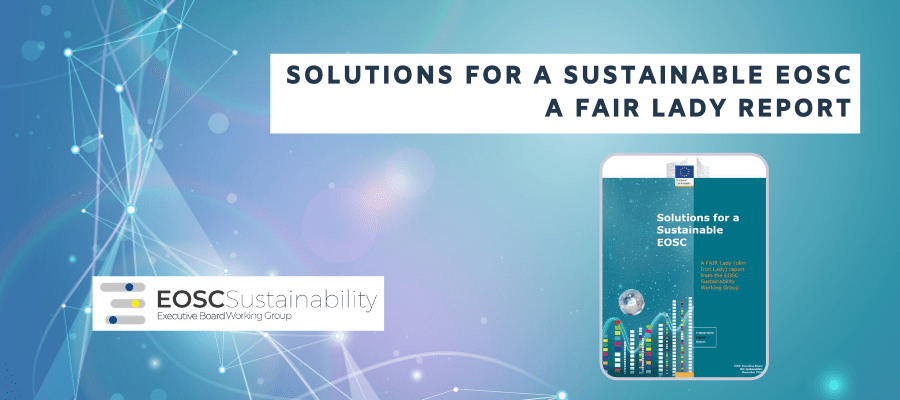 Solutions for a sustainable EOSC: a FAIR lady report
---

15 Jan 2021
The final meeting of the Sustainability Working Group took place on the 2nd November 2020 as a virtual event.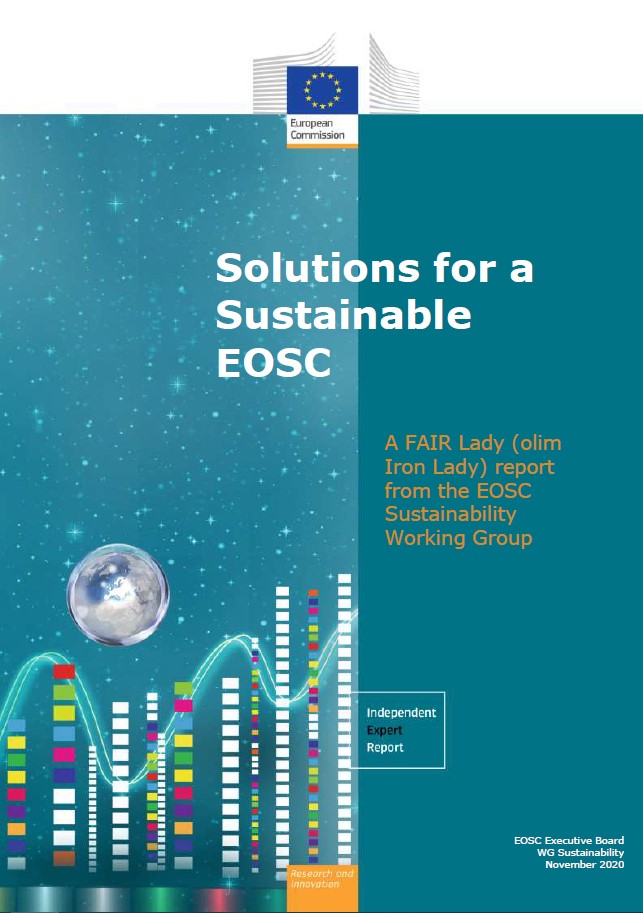 The objective of the meeting was to finalize the final output – the FAIR Lady (olim Iron Lady) – and its recommendations to the next EOSC Governance.
In October, the Sustainability WG made a draft of the FAIR Lady (at that point still called Iron Lady) report on "Solutions for a Sustainable EOSC" available on the Liaison platform for the EOSC Governance Symposium 2020. This version builds on the earlier Strawman and Tinman documents and takes into account feedback provided by more than 30 EOSC projects, organisations, Governance and Executive Board members, as well as other working groups. Additionally, the input from several studies commissioned by the Sustainability Working Group has been integrated.
During the last Working Group meeting, the FAIR Lady draft was again discussed and its final recommendations to the next EOSC Governance were agreed, some of which are highlighted below:
Raise awareness within the research communities of what is EOSC Core and provide a clear mapping of the services it contains;
Develop guidelines on what constitutes cost-based accounting and work to engage the knowledgeable individuals (notably financial officers) at service operators;
Recognise that EOSC requires pan-European e-infrastructures to provide Service Provider Aggregation when establishing the Minimum Viable EOSC (MVE);
Clarify the roles, responsibilities and accountability for digital preservation in EOSC;
Consider establishing a EOSC Funding Support Team to identify and secure contributions from diverse funding streams to the overall EOSC funding model;
Encourage national political support for European Regional Development Funds (ERDF) to develop capacity building and cooperation in EOSC;
Enlist local political support for national entities to deliver cross border services as part of the joint EOSC partnership;
Consider EOSC sustainability as a whole where different sustainability models coexist and evolve over time;
Develop shared and collaborative governance and decision-making structures that include risk management processes;
Establish the Web of FAIR data as a unique selling proposition of EOSC in order to have the greatest impact and reach to external stakeholders beyond the realms of academia;
Develop synergies with parallel initiatives, such as GAIA-X, EuroHPC, bloXberg, Industry Commons and the upcoming EIC marketplace to save on duplication and speed up deployment of EOSC;
The projects selected via the EC's INFRAEOSC-03 and INFRAEOSC-07 funding calls should implement the Minimum Viable EOSC (MVE) and contribute to addressing the recommendations in the FAIR lady document.
Looking back, the Sustainability Working Group has come a long way during the 18 months since its kick-off meeting in July 2019 in Frankfurt. The Sustainability Working Group has significantly contributed to the development of EOSC and its transition to the next phase under Horizon Europe. All of the achievements would not have been possible without the dedicated work and effort of the individual members and also the continuous feedback from the wider stakeholder community as well as the commissioned studies. Thank you all very much!