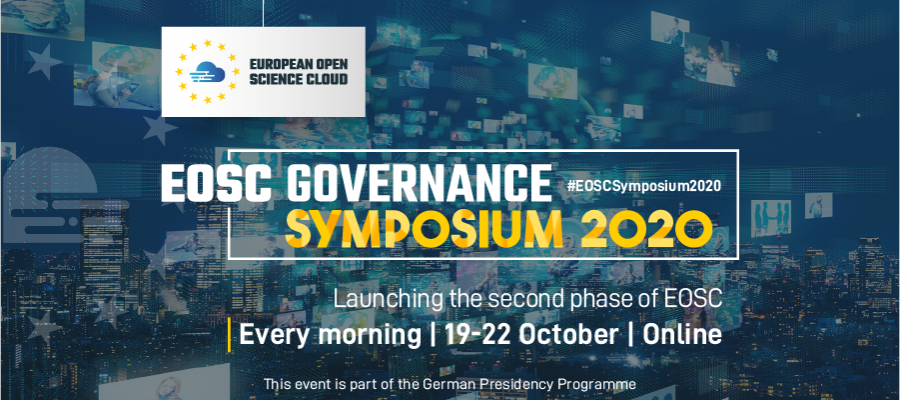 Symposium Spotlight - Day 1
---
This year the EOSC Governance Symposium moves online, with hundreds already registered to take part in this virtual event. Over four days the Symposium will focus on the road towards EOSC 2.0, EOSC supporting the COVID-19 crisis, the implementation and challenges of EOSC, and the boundary conditions for EOSC. The EOSC Strategic Research and Innovation Agenda (SRIA) will also be presented and discussed during the Symposium.
Spotlight on Day 1: Towards EOSC 2.0
The first day of the Symposium will kick off with a welcome from the chair of the session, Hanifeh Khayyeri - EOSC Governance Board co-chair, and from Susanne Burger - German Federal Ministry of Education & Research, DG European and Int. Cooperation.  This will be followed by a series of keynote speeches from Petra Gehring - Technical University of Darmstadt, Anna Panagopoulou - DG RTD, and Grazyna Piesiewicz - DG CNECT. 
After a short coffee break, there will be an informative session on the EOSC European Partnership & Association and an interactive discussion on the results of the SRIA Consultation chaired by Sarah Jones - EOSC FAIR WG chair. This session will be perfect for those who wish to understand more about how EOSC is in partnership with Europe, how the European Commission, the partnership board, the EOSC Association and the steering board interact and work together for the future of Open Science in Europe.
In the early afternoon there will be the first EOSC Clinic, a session where those attending the Symposium will be free to ask any questions about the future of EOSC and EOSC governance to key members of EOSC Governance using the sli.do tool. Don't forget that question may already be posted on the sli.do page! 
The day will finish with an hour-long session about the main outputs and contributions to EOSC of the co-creation program. This will include a series of lightning talks by different co-creation projects speaking about what they achieved for EOSC. These fascinating co-creation success stories will be a stimulating end to the first day of the EOSC Governance Symposium 2020.
Day 1 will be packed full of important information about where EOSC is headed over the next few years. See the rest of the programme here!