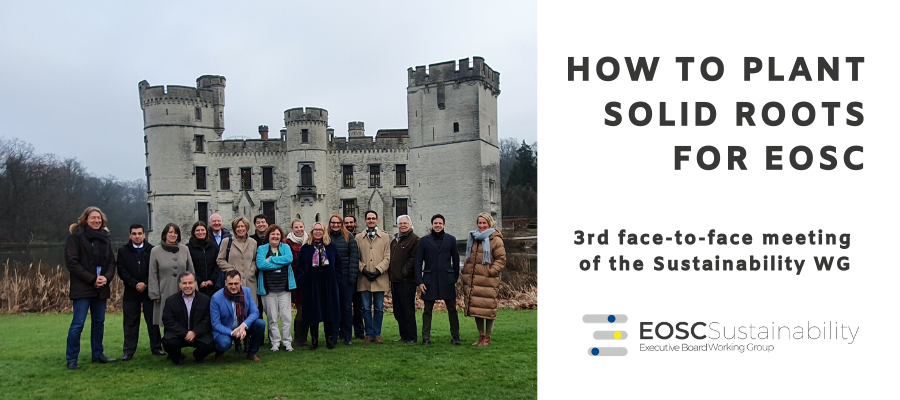 Third face-to-face meeting of the Sustainability Working Group
---

24 Feb 2020
The third face-to-face meeting of the Sustainability Working Group was held at Bouchout Castle just north of Brussels, which is the site of the Meise Botanic Garden. It proved an ideal location for exploring how to plant solid roots for EOSC and allow it to grow into a secure environment for Europe's research activities.
The objective of the meeting was to get an update on the progress of the Working Group's task forces, foresee the next steps regarding the Tinman document and to establish a broader timeline for the year.
The Sustainability WG recently distributed its Tinman version of the "Solutions for a Sustainable EOSC" report to the EOSC stakeholders. This version builds on the earlier Strawman document and takes into account feedback provided by more than 30 H2020 EOSC projects, organisations, Governance and Executive Board members, as well as the working groups. Feedback on the Tinman version was then collected until the 9th of February. At the moment, a Sustainability WG task force (TF) is consolidating the feedback which is expected to be shared again with a wider group of shareholders and the community through the EOSC Liaison Platform.
The Tinman document also serves as a basis for on-going work around options for the future EOSC legal entity and business models which in turn will give rise to the first studies to be commissioned by the Sustainability WG in the coming weeks and months. 
As the work progresses, a close interaction and alignment with the EOSC governance bodies is even more critical than before. Consequently, the work of the Sustainability WG and its various outputs around Strawman, Tinman and feedback are regularly being presented and discussed both with the Executive and Governance Board. Another aspect under discussion is the input on a future legal entity and the requirements to be considered to put a functioning structure in place by the end of 2020. Regarding this, the task force on legal entities has a very active and important part, in particular, given the directions recently set by the Member States, Associated Countries and the European Commission to work towards establishing a co-programmed European Strategic Partnership for EOSC in Horizon Europe.
Finally, another Sustainability WG activity involves the task force on integration of national infrastructures: They will continue to examine the results of the Landscaping Working Group, H2020 projects and e-IRG to determine the potential scope and timing for the federation of data infrastructures and services with EOSC. The Validation Workshop organized by the Landscape WG at the end of March will therefore be of high interest to the task force.