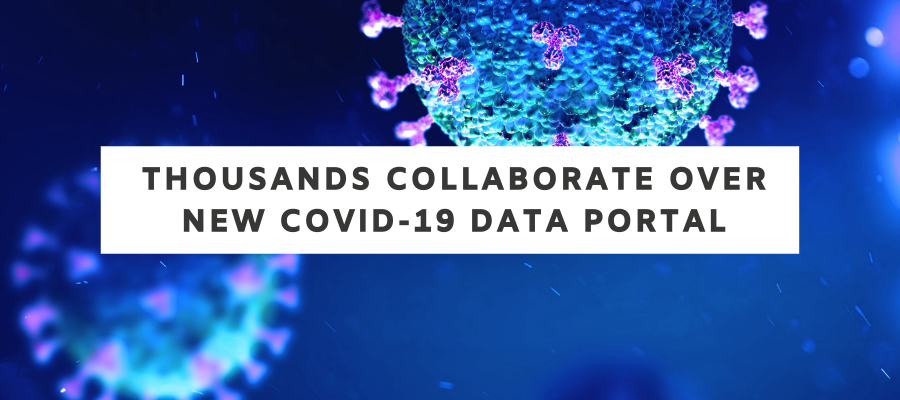 Thousands Collaborate over new COVID-19 Data Portal
---
Over 73,000 users are collaborating on a new online platform set up by the European Open Science Cloud Initiative, where scientists can share COVID-19 data and accelerate our understanding of the virus to help develop treatments and vaccines quicker.
A new website that allows scientists to share difficult-to-find SARS-CoV-2 data from clinical trials, research centres, hospitals and national healthcare systems, has seen thousands of users collaborating to help beat the novel coronavirus.
Unbound by red tape or paywalls, the new European COVID-19 Data Platform – an open, digital space for researchers to share and upload data sets - has seen more than 73,000 users on the platform, and 2 million requests since its launch on 20 April of this year.
Gathering clinical information, the Data Portal brings together relevant datasets that are very difficult to find, such as raw and assembled viral sequences.
While scientists across the world have worked on COVID-19 as a national imperative, a big challenge for researchers in the fast-moving situation has been the sharing of data and findings in a coordinated way.
But now, thanks to this new platform, thousands of researchers are already sharing free resources to tackle COVID-19 in the context of the European Open Science Cloud initiative (EOSC).
Seeing global research collaborations, the Portal includes a wide spread of nations, with the majority of its users coming from the UK (12%), the USA (9%), Spain (8%), Italy (8%) and Germany (7%).
Set up by the European Molecular Biology Laboratory's  European Bioinformatics Institute (EMBL-EBI) and the European research infrastructure ELIXIR, the platform is supporting life science laboratories across Europe to share and store their research data.
Generating enormous amounts of data from clinical trials, research centres, hospitals and national healthcare systems on the disease, the COVID-19 Data Portal has successfully coordinated the data since the pandemic began spreading in early February 2020.
Project coordinator of EOSC-Life, Niklas Blomberg said:
"We are really impressed with the rapid uptake of the portal."
"Already we are seeing the platform play a key role in allowing scientists to understand fundamental questions about the virus. Researchers are sharing knowledge on how the virus mutates when spreading, the basic biology of the virus, how it infects, whether there are any drug targets or intervention points where known drugs can be repurposed, and the human response, for example, the genetic risk factors for the severity of the disease."
"The work in EOSC-Life on Europe-wide solutions for federated access to data that cannot be openly shared - for example, human genomes and disease data, data from clinical trials, access to biobank samples from European biobanks - is directly supporting the portal development. The work provides a blueprint for long-term solutions and potentially helps to prepare us for future outbreaks."
Federation of Data
Blomberg believes this will pave the way for a federated model - a multi-layered federation of data supplying a wide range of publicly-funded services at national, regional and institutional levels.
"The data gathered will result in rich datasets, for example, genetics, proteomics and serology, collected from a large number of COVID-19 patients and these data need to be stored and shared in a secure and GDPR- compliant manner. Thus we need to transition from a centralised model to a federated system with data deposition and access across Europe," said Blomberg.
The success of the Data Portal has many Open Science advocates stressing the need for a federated European data ecosystem.
EMBL Head of IT and EOSC Executive Board Member Rupert Lueck said:
"The collective global scientific effort to study the disease, find vaccines and develop cures has been stunning, but would arguably not have been the same behind paywalls."
"The COVID-19 Data Portal has allowed scientists to progress at a phenomenal rate unencumbered by red tape - keeping the focus on science, shortening timelines and showing the importance of open data in well-kept repositories. It proves that accessible and well-curated data can produce rapid responses and high-quality, reproducible science."
Blueprint for the Future
The success of the Data Portal has many seeing this as a first step to creating a wider network of COVID-19 data hubs. Amonida Zadissa, Project Manager at EMBL-EBI said:
"Given that a large part of the COVID-19 host data will come directly from clinical care it will be subject to national laws and regulations. Much of this data is unlikely to be consented to leave national jurisdictions.
"Therefore, the rapid response to the COVID-19 pandemic provides a blueprint for European data access in projects such as 1 Million European Genomes and the European Health Research and Innovation Cloud."
About EOSC
About the COVID-19 Data Portal
https://www.covid19dataportal.org
The European COVID-19 Data Platform will consist of two connected components:
SARS-CoV-2 Data Hubs, which will organise the flow of SARS-CoV-2 outbreak sequence data and provide comprehensive open data sharing for the European and global research communities.
Read more about the Data Hubs >
COVID-19 Data Portal, which will bring together and continuously update relevant COVID-19 datasets and tools, will host sequence data sharing and will facilitate access to other SARS-CoV-2 resources.
About EOSC-Life