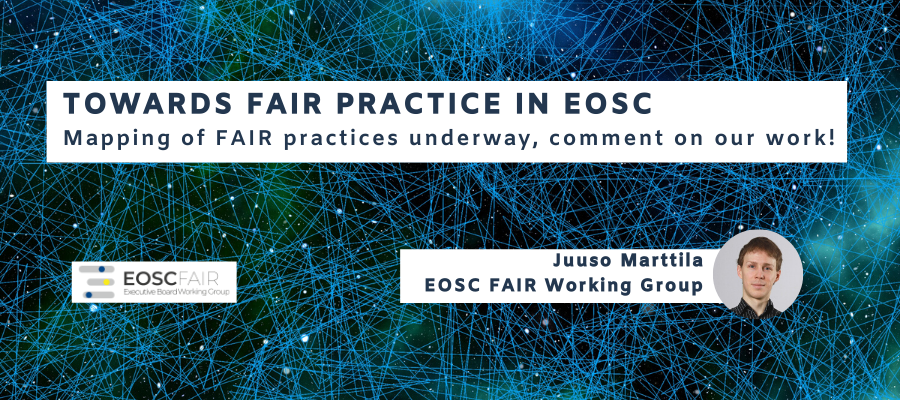 Towards FAIR practice in EOSC
---

21 Apr 2020
By: Juuso Marttila, with contributions by Neil Chue Hong, Stefano Cozzini, Marta Hoffman Sommer, Rob Hooft (Chair of the team), Liisi Lembinen, Marta Teperek
Winter 2019 and Spring 2020 have been busy times for the FAIR practice task force of the EOSC FAIR Working group. Since our kick-off last summer, our team concentrating on FAIR practices has set off to find out the general state of FAIR practices in sciences as well as both their social and technological enablers and impediments. It has become clear that despite much-appraised success stories, most scientific communities are still struggling with understanding and implementing FAIR principles. The gap between intentions and practices is daunting. Our aim has been to bridge the gap between the high principles themselves and general practices in different fields of sciences. This requires mapping of best practices as well as common obstacles and then disseminating these results to the EOSC Executive Board, funders and different technical architects of research communities who can then help researchers and research institutions to make FAIR principles their everyday practice. It is of utmost importance that policy makers understand the obstacles and success conditions, in order to devise appropriate mechanisms which could turn the FAIR principles into live practices.
Our work so far
Our work has concentrated on gathering and going through relevant reference material from various fields of science and gathering information about FAIR practices in those domains. As a group we have gone through over 40 different outputs on the subject and have still plenty to go.
Everyone is welcome to familiarize themselves with our work on a spreadsheet and comment on it. The spreadsheet lists different resources that describe FAIR practices in general or in a specific field of science. The main body of evidence can be found on the second sheet. There we have gathered main findings from each document and sorted it by different FAIR principles to facilitate further re-use.
Like everybody else, also our working plan was briefly disrupted by the COVID-19 outbreak. We were already booking a venue for a writing sprint in June to jointly write a report on our findings so far. However, the live event had to be cancelled. Luckily, we have already familiarized ourselves with working together from various different locations and are currently working on a plan for writing the report from the safety of our homes.
Upcoming report on FAIR practice
When working on FAIR principles, one always encounters a plethora of initiatives that are on parallel or even similar tracks on what comes to scope of their work. This motivated us to clearly define the scope of our work to ensure we do not duplicate the work already done by others. In addition, we have established frequent communication with the ongoing FAIRsFAIR project that deals with highly similar issues. By coordinating our work and sharing our knowledge resources, it has become clear to us that our task will indeed be to enable policymakers on both European level (EOSC) and national level (funders) to turn FAIR principles into practice while FAIRsFAIR's audience are research communities and those directly supporting those communities. Our report will be prepared with this in mind and it will complement FAIRsFAIR's work on the subject - not forgetting other initiatives and reports on the field.
How can you get involved?
We are trying to work as openly as possible to get feedback and comments at all stages of our work. This time we would be delighted to hear from you in the following ways:
Check and comment on our spreadsheet. We are open to any missing reference material that describes FAIR practices, challenges and solutions related to them, on specific fields of science. We also welcome any comments on our findings and how they have been structured.
Send any suggestions on our report's structure and more specific comments and proposals are than welcome. At this stage you can send them by email, later we will open our draft for you all to comment and provide feedback.
Questions? Comments?
If you have any additional questions or comments, don't hesitate to get in touch with us at any stage by emailing fair-practice@eoscsecretariat.eu.
For more info, read the blog post from the inaugural meeting and our previous blog post for setting up our work.